Three Months in Costa Rica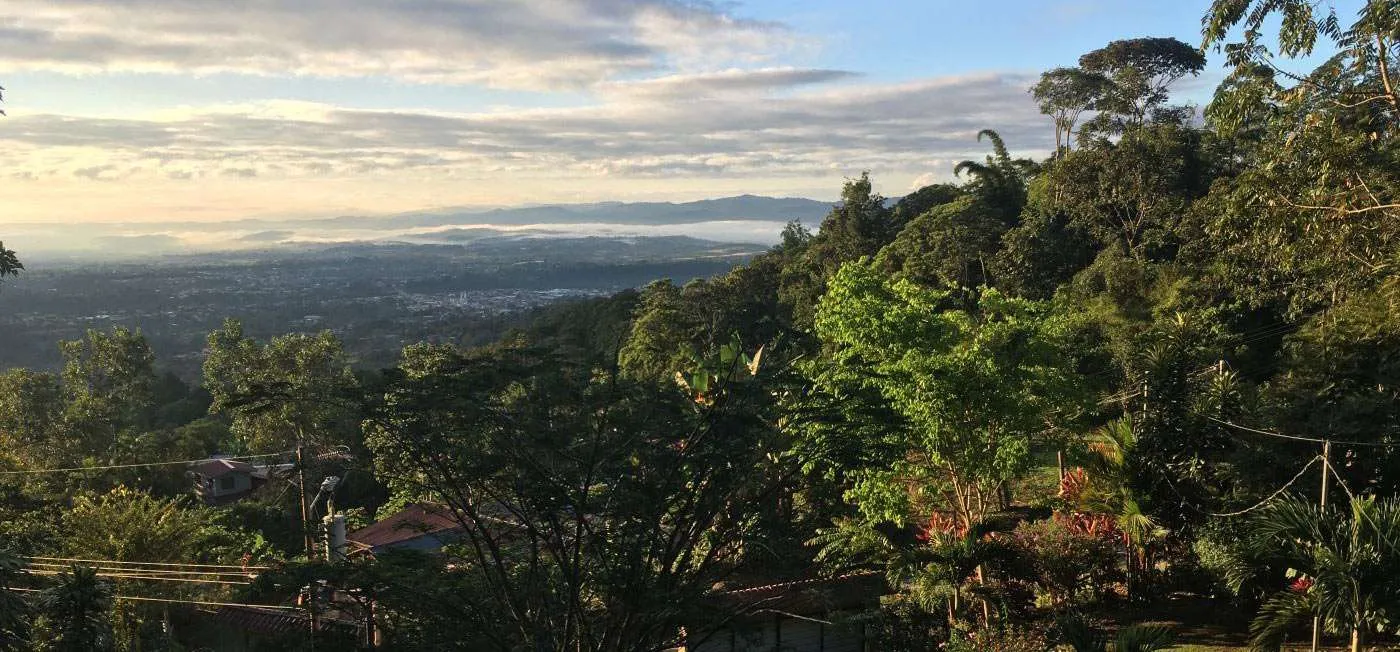 In the winter of 2019, our family of six escaped our regular American life and spent three months in Playa Negra on the Nicoya Peninsula in Costa Rica.
How did we make this happen? – We made it a priority.
How did we afford it? – We diligently worked towards our goal.
How did we take four kids, 2 of them teenagers on such a long trip? – We got creative!
The Decision
Our family has made traveling a priority in recent years, but up to last year, we never did anything that would be considered too crazy. We have visited our fair share of National Parks, spent a lot of nights in campgrounds, and have done a few trips out of the country as well. Always traveling during school vacations, and when the local sports club was on break. So in spring 2019 we planned another 2 week trip to Costa Rica for the upcoming fall, to explore the parts of that beautiful country which we hadn't yet seen.
Sitting at home, planning another trip I realized something. I wanted more than a vacation! I wanted one big, fat experience for our family! Something to remember forever, to open our kids' eyes to see that there is more than life in a Western society. This nice, comfortable life, full of conveniences which are taken for granted is not the only way.
Having grown up in Germany and having worked in several different countries before settling in the US 20 years ago, I knew that there is an entire world of people living their lives so differently than what we see here in this country. And if we don't show our kids, who knows if they will ever go and explore on their own?
Maybe they would be too afraid? Maybe they wouldn't think it necessary to travel outside of their comfort zone? Would they ever see the value of opening one's eyes to different cultures and most of all, would they know that no matter where you are, people are just people. The majority of people in the world aim to live a happy and peaceful life, just like you and me.
A two-week trip really doesn't even scratch the surface of learning from a different culture. It doesn't immerse us, we see a lot of sights and beautiful scenery, but we don't get to actually feel a deeper connection and experience the soul of the country we are visiting.
So we decided to spend three months in Costa Rica. Just like that. Sitting on our couch having our morning coffee. And that was that. It made so much sense and felt so right that my husband and I both knew it was the right thing for our family to do. We would figure out a way.
Finances
Money is relative. Some need more, some need less, but we all need some. The first thing we felt important to work out was to discuss and agree on what kind of experiences we were looking for and to make a budget accordingly. We didn't have unlimited funds sitting in our bank account, waiting to be spent on our world travels, like some people believed. Really, we didn't. We just worked very hard at achieving our goal.
How much would we need to cover our mortgage? How much on our airbnb while there? Could we rent out our house while we were gone? Flights? Living expenses there, ongoing expenses at home? Rental car? The list went on.
We fully dove into research and ended up being quite successful in finding creative ways to save money. Here are some of them:
We did a long term airbnb rental and received a great deal after telling the owner our story and explaining why we would like to rent from him.
We found a lady who rents (beater) cars privately, for awesome monthly prices.
We joined expat groups and learned the ins and outs, dos and don'ts, and how to live cheaply like a local.
We stayed far away from tourist places and the money pits they present.
We almost always cooked at home.
We shopped where the locals shopped. We bought veggies at the veggie stand, meat at the butchers, bread at the bakeries to get the best prices on groceries.
We ended up renting out our house and were able to cover our mortgage.
We skipped tourist attractions and tours, and instead focused on experiencing local life.
We spent a lot of time in nature, hiking in the jungle and visiting beaches.
New Sights, Sounds, and Adventures
There is nothing like waking up at a new house, a place you have never been. Everything is different, the colors, the smells, you don't quite know where anything is yet. And wait, did this place come with breakfast? Where is the closest store? Oh, it's so exciting! We love adventure, we love not exactly knowing where the coffee pot might be after waking up at a strange place. That moment when you open your eyes and try to remember where exactly you are. And all the sites we will get to visit, the places we will explore!
At 5 am on our first morning at our little place in the jungle we got woken up by a family of howler monkeys. It was loud! We got out of bed, sat on the terrace and watched in awe. Watching the monkeys travel through the treetops ended up being one of our favorite things. When they were around, we would stop what we were doing, take a seat on the ground and look up. It was the most amazing thing! After a while we noticed that almost every adult monkey had a baby clinging on to some part of their body. The whole group was led by one alpha male who watched carefully over his extended family.
Slow Travel
All these new impressions need to be processed. And slow travel allows time for that. Time to let everything settle, time for the kids to play without the interruption of having to pack up and go see places every day. Time for our brains to turn off, to stop the steady stream of new information and to spend a day laying in a hammock.
For us traveling slowly is the only way. We learned that everything else is simply too stressful! So if we spend 3 days camping, we take at least one 'no drive day'. If we have 2 weeks in a new country, we aim to be 4 or 5 nights at the same place. We explore the first day, maybe also the second, but then we take a day sticking around the property. Our ideal experience is spending two or more months in a foreign country because it lets us fully absorb the culture and feel the different life in all its shapes and forms. You get to know the lady at the little grocery store nearby. You greet the parking lot attendant at the local beach like a friend. You learn some local slang and most of all, you get to adopt some new ways of living. For instance, in Costa Rica people make conversation a priority. Everyone is up for a little chat and you don't ever hear people say that they are running late or are too busy. We absolutely loved that! And we learned that no matter what, we need to take the time to interact with others. Giving someone our full attention, to really hear them, is not about them, it is one of the most enriching things we can do for ourselves.
Saying "Yes!"
"I'm glad you are finally here, I'll show you your place and then we can go to the beach! Will you be ready in 10 minutes?"
That's how we were greeted by our airbnb host when arriving at the property we had rented for 10 weeks. Where usually we might have said something like how it had been a long trip, and suggested we go to the beach the next day instead, we looked at each other and said "YES!"
Because before going on this journey, we had agreed to make the most of it. To go for it and to let go of any preconceived notions. Besides, how could we possibly turn down going along with the guy who has visited the local beaches for 20+ years and who was about to show us his favorite spot?!
It didn't disappoint.
It was just awesome and the best thing was that we picked up on the enthusiasm shared by our host who had chosen this place to live and to build his home (and some cabins) on the property we were staying at. We immediately dove into learning about the community, the places nearby, local traditions and their history and so much more. It was everything we came for.
Meanwhile, our teenagers asked for WiFi. Yeah, the beach was great, but how come the WiFi just cut out?
Traveling with Teens
It was interesting, to say the least. When planning the trip in spring, our oldest was still on his exchange year in Berlin, Germany. He was strong and happy and excited to explore more places the upcoming winter. Our second oldest was also onboard and so we planned away…
Well, that said, things changed. Completely. Son Number 1 had a fairly hard time readjusting to life at home after having been gone for one year. He was afraid that some of these struggles would be repeated when coming back from yet another long trip. I understand, he had a valid point. But should we cancel the trip for all six of us because he changed his mind about going?
No!
Son Number 2 had a girlfriend. Enough said. Regardless, all six of us went to the airport on a snowy day in November and boarded the plane that would be taking us on our three month adventure!
Now, let's fast forward to three months after coming back from Costa Rica. The younger one and his girlfriend survived the time apart. My oldest decided against going back to his school and spending another year and a half there. He was in his 12th year of school already, yet due to having spent one year in Germany he was officially only a junior in high school. So he enrolled in the umbrella school that his unschooling brother was attending and signed up for their graduation program. He received his high school diploma two months later and started doing what he loves, working at a bike shop.
He called me while I was still in Mexico with my girls (that's another story), and I couldn't believe what he shared when talking about the whole Costa Rica experience. He said how he learned that he can do anything! Anything he sets his mind to, he just needs to plan it and go do it. He said he liked his job but he also liked surfing, so he might just save some money and travel to California so he can do more of that. He also wants to ride his bike across Germany. And while doing that, he might pick up a job somewhere. Or he might come back to his old job. Most of all, he feels free. He told me he had learned that from going to Costa Rica. If he wants to do something he can just do it. He now knows that all he needs to do is start.
My mama heart jumped at those words! I took a big breath and thought "Mission accomplished!"
A Simple Life
We set out to experience a different way of life, and that is just what we found. Most everyone we met had their basic needs met, in whichever way that looked like for them, living a simple, quiet, and happy life. The attitude towards life and what people want from it was new to us. It varied depending on where in Costa Rica we were, but generally we found that people put more value on having time for each other than we do in our culture. They see others as equals and treat everyone with respect. Unlike here, making money is not a priority. Family ties are strong and important. People work hard but also take time to rest, all this in a very natural flow. Gratitude is deeply integrated in the way Costa Ricans view life.
All in all, living in Costa Rica let us reexamine our values and realign our priorities to live a more intentional life. A chosen life, versus just reacting to what is presented and expected. Being emerged in a culture where people don't rush from one place to another allowed us to find a peaceful and calm place inside of us. Now having been back for a while, we can still access this place and act from there when life is threatening to get too busy.
We can't change the world around us, but we can change the world inside us. And then we can shine out the light we found and inspire others, encourage people to think and to not just accept their situation if they don't like it.
You are never stuck! There is always something you can do to change.
Make it a priority, all you have to do is start.