Vandwelling
Europe with Here Today
Vanagon Tomorrow
"While I am not immune to the charms of small town America and the thrill of the unfettered wilds found in our neck of the woods, there is just something about Europe that fills us up," says Jessica LeFroy, currently sitting at her kitchen table, drinking coffee, in her home in Squamish, British Columbia.
Jessica, her husband Robbie, and their four year old daughter Henley, spent the better part of a year traveling around Europe in their 1987 VW Syncro Westie. That's code for a Volkswagen Vanagon with 4WD and a camper conversion, for those not in the know about these truly rare and–frankly–wicked machines.
While they're "landlocked" now, so to speak, she's constantly dreaming up their next big adventure, and happy to reminisce on their time spent country hopping around the Old World's take on Western Civilization.
"The history," she recalls her favorite parts of Europe, "the cobblestones, the accordion music, the food, the bakeries and an entire continent's willingness to subsist primarily on a diet of bread, cheese and wine.
"Something we really connected with was the value that most European countries placed on the enjoyment of the good life: an emphasis on the quality of life and the simple pleasures."
Jessica and Robbie weren't strangers to Europe, having traveled the continent in their younger years, and Jessica's grandparents are from France and Germany.
"I still have family overseas," she adds.
So exploring the continent wouldn't exactly be new to them, though doing so with their daughter and in a thirty year old van was going to be a new twist.
"We have always tried to get out in the van every weekend," she talks of their experience with vanlife before the big pond crossing, "and do a few week long trips each year–either to one of the Gulf islands, up in the mountains, or down the Washington or Oregon coast. We love exploring where we live, but it's not completely about living in a van for us–we also just really wanted to travel," she admits. "Europe checked all the boxes."
They also weren't strangers to old vans, either. Before their Syncro fell into their laps, Jessica had her eyes on a 1978 Bay Window Volkswagen Bus, with a Riviera conversion. Which basically means it was ten years older than the one they have now, and the campervan conversion was done up by a company that used to work out of Oregon.
"I take full responsibility," she jokes, "I think I'd decided that we were going to buy that Bus before we even went to see it."
Indeed, those old hippie vans have a certain allure that allows one to see past the rust and dings, the underpowered engines and failing mechanisms. They're sirens of the van world, and few can resist their call.
"I was head over heels in love and possessed with the notion. I am thirsty for nostalgia and a bit head in the clouds, but that Bus represented something that I connected to on a visceral level. If I recall correctly," she pauses, "and I definitely do, it stalled while I was solo test driving and hubby and the previous owners had to run around the block to find me, rescue me, and push the Bus back to the house. It also failed an inspection and actually didn't really run….but still I was like, 'we'll take it!'"
They tore out the dated Riviera's guts and Robbie built it to suit their own needs. It took them a winter's worth of time to complete the work. Come spring, they were eager to take their Bus for a spin.
"I was genuinely shocked when it wouldn't start," she recalls, not necessarily with amusement. They'd done everything correctly. Read the right books, did the work, found an experienced owner of a 70s Bus. Still, it wasn't working out.
"I wasn't cut out for bay window ownership," she recalls, a tad red in the face. "Literally everything we tried to do made things worse." They cut their losses, waved goodbye to the hard earned cash they'd dropped into it, and, as she puts it, "changed focus to something a tad more user-friendly and suited to our needs." Luckily, any emotional attachment she may have hoped to find in that old Bus had dwindled away, and they came out of the experience knowing that vanlife would still be for them, just with a more trusty rig.
Thus, Storm entered the picture.
"Mechanically," she moves on from past failures and towards their current success, "Stormie was in great shape when we purchased her–being owned by a Vanagon enthusiast and mechanic certainly helped!" Not without its own idiosyncracies, the new Vanagon promised adventure where the Bus just leaked oil.
"Our objective has never been to have a show quality vehicle, rather to have one that is structurally sound. I want a workhorse, not a show pony. It was a labour of love for the last owner, and there have been significant upgrades and modifications that have helped in the reliability, safety, and functionality of the van."
Like many a proud Vanagon owner, she considers listing out every modification every made to it, but stops short of actually doing so.
You can tell Jessica loves her van, and everything it's given them in life thus far. Once they had Stormie, their eyes began to open to an even bigger world of possibilities.
"How little you need to be happy." That's her answer to the question of what the van explained to them in those first few trips.
"A lot of the stuff we concern ourselves with on a day-to-day basis don't really matter," she preaches the time-tested slogan of many a vandweller, minimalist or anyone who's learned that the joy of life can be found more in experiences than anything stuffed into a closet or the back of a garage somewhere.
She talks of living slowly, of being present in the moment. She is wise, and values the lifestyle the van has made possible–even though it's their own drive and personality who allowed this all to shape.
And like nearly every parent watching their young ones grow, she notes, "Kids grow up so quickly," before sharing some other truths she finds to be self-evident for their own lives.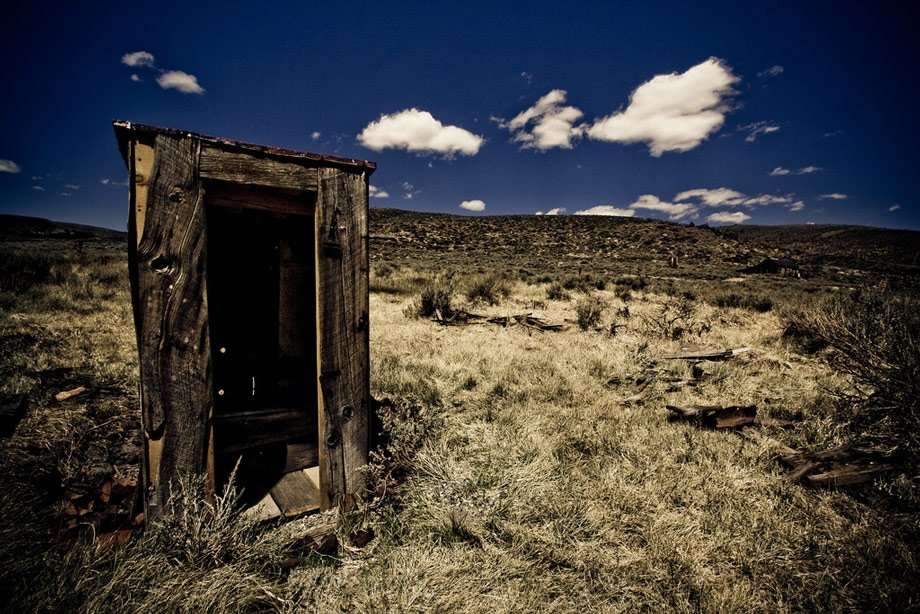 Where to find hot, clean showers and how to relieve yourself for those travelers who have no built-in shower and bathroom.
"Bread is not the enemy. Adventure is out there. You can get away with showering far less than you'd imagine. How attached people are to technology that we don't need. To always trust our guts. That by and large the world is filled with kind people."
Words to chew on, particularly in the cloud of our modern political attempt at demonizing anything different, foreign.
Thus, they made their plan. Garage sales. Small storage unit. Ship the van to Europe.
Stormie boarded a ship from Vancouver and made the long journey alone, while the family waited for their beloved home-on-the-road in London.
For those interested in the details of such a thing, they used a company by the name of Just World Cargo.
"I obsessively tracked the ship while it was making it's way across the ocean and knew when it arrived at the port. From there, I remained in contact with our freight agents in the UK, who gave us a two week window for the van to be unloaded, clear customs, and shipped to the warehouse for pickup. We considered the cost of either staying in a hotel while we waited for the van to clear customs or paying for the van to be stored at the freight warehouse for a few days, and decided to arrive in London on the later end of the estimated release of the van. As it turns out, we only had a short three day stay in London before the van cleared and we were ready to go."
From there, it was six months of their lives touring fifteen European countries, largely during times when most of the tourists weren't interested.
"While we didn't consciously make the decision to travel in the off season, there ended up being significant benefits. While it was a wee bit on the cold side, we got the most authentic sense of the towns we were visiting because for the most part, they were filled with locals and no tourists. There was no congestion in the streets and people spilling out of souvenir shops…it was just the town and its people, going about their lives and looking at us like we were total kooks because we were wearing flip flops and shorts and they are wearing puffy jackets."
Indeed, traveling in the off season, whether you're dodging Spring Break in the US or flirting with snow in Northern Europe, is the most authentic time to visit any location.
"The beaches were deserted," she continues, "and we were able to explore historical sites with no lineups, and sometimes even no charge."
She talks of frost forming on the outside of Storm in Slovenia, England and Italy. "But," she admits, "nothing too extreme." Being Canadians, the rest of us will have to take that with a measure of the old "relativity salt".
"There was some fairly fierce competition," she laughs, "to see who would go outside to turn on the propane to run the heater in the morning."
"Conversely," she recalls from a different trip, "the Death Valley in California was the hottest I've ever been in my life. Living in a van with no AC while driving through places named 'Death Valley' is no joke. We stopped at outlet malls and McDonalds to take advantage of their AC and sweet, cold, plastic benches. When everything inside of you screams to roll down the windows but the air outside scorches your delicate PNW skin you know there is hellfire on earth."
While in Europe, they reveled in the natural beauty they could find, in getting lost in it all.
"We like the adventure of just getting out there. It's the thrill of finding a beauty of a spot that is free and isolated–it feels like you've earned it." She talks of how they don't particularly need the amenities that campgrounds provide, and hints that the freedom that comes with stealth camping, or blazing your own trail, is something they cherish in their journeys.
"We are always drawn to the ocean as it fills the days with beach-combing and activities, but being a mom has made me slightly paranoid. While camping on the beach sounds lovely I am always too worried about unfamiliar tides sweeping us away as we sleep–lulled into a sense of security by the waves lapping at our door." Thus, they've migrated their tastes toward overlooks. "…viewpoint spots with a little hike down to the ocean, but some of my favourite spots have been ones that are just interesting…on riverbanks, hills overlooking the village, parks…they are all fun!"
Other times, they chose a more established campsite for convenience. "Sometimes we also need it to be easy, and a campsite is a welcome treat. We do love being around people that share our enthusiasm for this kind of travel. For us it's striking the balance between being a part of the community but also enjoying the solitude. Sometimes the hunt for the ideal spot is our activity for the day, but sometimes we just need a safe spot to camp or a hot shower."
One interesting aspect of traveling Europe is the "Aire" (in France) or "Camperplatz" (Germany).
"Aires de Camping Cars and Camperplatz are areas to park your motorhome overnight. We came to love the Aires. They are provided as a means to draw in travellers," she explains. "Some were free, some were not, but even the most swanky Aires tipped the scales at 10 euros. Some Aires were bare bones parking lots, but others were beautifully landscaped sites at the base of castles with bathrooms and fresh water. It's an amazing initiative–giving travellers a safe place to stay in return for our money inevitably being spent in the local economy when we visit the bakeries, restaurants, and historical sites."
It's unfortunate that in the US, this type of thinking is largely limited to Walmart parking lots or casinos, but Jessica gives us all something to dream for one day.
It wasn't always Aires and Camperplatz, though.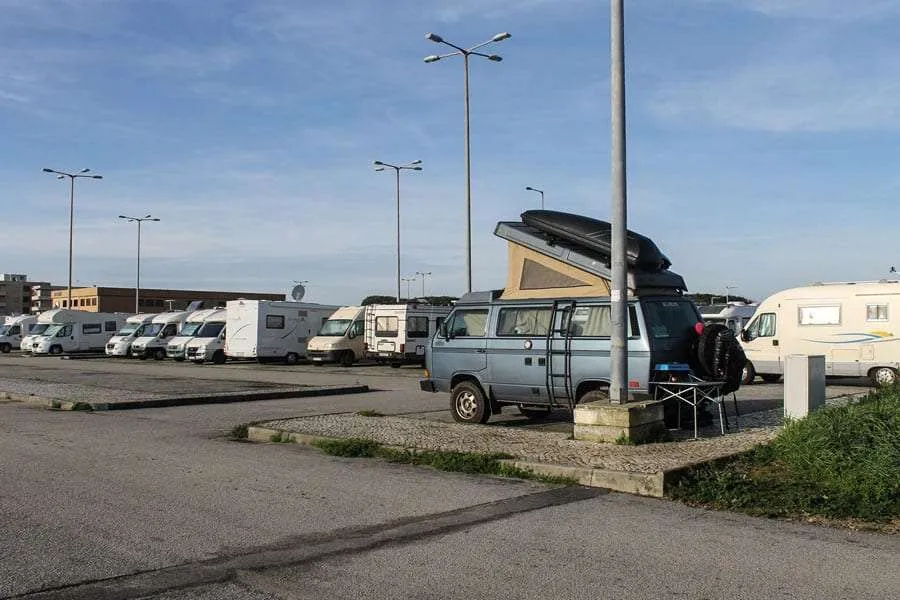 "The best of times and the worst of times," she muses, "and it varied wildly from country to country. At home in BC we are used to a sort of wilderness camping that suspends belief. Generally, this is our type of camping: out of service, feeling small in the mountains, having campfires, feeling a bit creeped out by the noises of things much bigger than us and higher up on the food chain, and having a buddy system to go pee in the woods."
In Europe, she continues, "It took us a while to hit our stride. Wild camping in Europe was a wildly different beast. We felt most confident in France, England, Ireland and Wales, where there wasn't a language barrier to contend with and where it gave us a bit of confidence knowing we could explain things if we got ourselves in a sticky situation. We gave ourselves an hour or so to find camp each night, always trusting our gut as to whether or not a spot would suit our needs. Even if we were in the most picture-perfect spot, if one of us felt a bit off, we left. If we are stealth camping, it is typically on the river banks, wooded land, cliffs along the beach, and, surprisingly, skateparks, which were often surrounded by parkland and provided hours of fun."
In any case, they rarely stayed put in one spot for longer than a night, always excited to see that next 'round the bend. And as their travels went on, so did their taste in campsites evolve.
"It took but one baguette delivery truck in France to turn me from a stone cold wild camper to a soft millennial awaiting the telltale honk of the morning's fresh bread. We were a bit slow to catch on, but then after a few stern talks from the more organized travellers waving detailed books of the Aires in Europe, we downloaded coordinates for our GPS. Our GPS only led us astray once–when it insisted we were able to park in The Hofburg in Vienna," a.k.a. the Imperial Palace of the Habsburg Dynasty, now home to the President of Austria.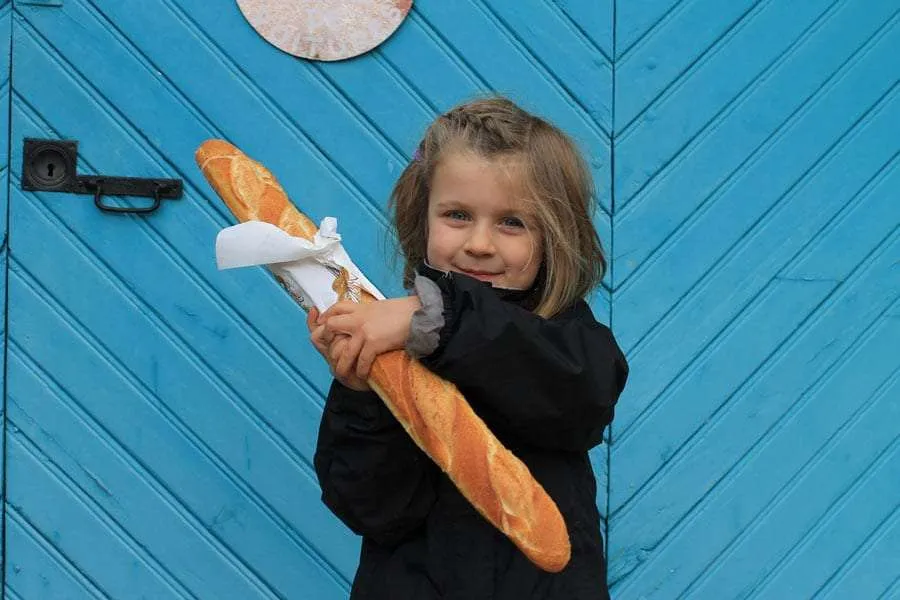 "Searching for Aires became a part of our evening routine. We aimed in the general direction of somewhere we knew we could stay the night without hassle, and then along the way if we found somewhere to wild camp we did that. It gave us a safety net, especially in the countries that were a bit more unfamiliar to us, and it shaved some drive time off our day. Some of them were truly spectacular and we met some amazing families on the road because of the Aires."
Speaking of families, what about Henley's schooling?
"She was in pre-school before we left and we returned for her start of kindergarten year." During their trip, they had a workbook aimed at children her age, and they'd occassionally practice learning numbers, letters and shapes with her. "It certainly wasn't structured and it was never forced. Sometimes she was into it, and sometimes she wasn't, and that was ok. She is curious, and we think that's what's most important."
Many a traveling parent's philosophy revolves around this key idea: children learn better when they're interested, and forcing them into something they're not ready for is a sure fire way to slow down their natural progression. It's a cornerstone argument for homeschooling, and certainly roadschooling, and one that's been proven true countless times.
"It's the perfect age to travel," Jessica believes, "because there are so many questions and we love taking the time to indulge that sense of curiosity and wonder. We just did arts and crafts, played UNO, went on nature walks and had story time every night. She is wonderful. She is confident and adaptable and is an easy-going kid."
So, what then is a day in the life of a family traveling through Europe in a Vanagon like?
"Everyday was some variation of eating, exploring, caffeinating, adventuring, cribbage, UNO, reading, doing nothing and hanging out," she recalls, "set against the backdrop of jaw-dropping beauty and tons of old stuff." She then turns the tables and emphasizes another pastime many a vanlifer has discovered.
"Getting comfortable with and embracing the act of doing nothing is a lost art–we got pretty good at it. The quest for the perfect baguette, nata, burek, pizza, gelato, croissant, crepes, weinersnichel, cornish pasties, fish and chips and other culinary delights made up a serious portion of our day. It was just normal life, so we took pleasure in the same moments: being silly with your kid, finding a treasure at a gas station, amazing street food, fresh laundry, the occasional hot shower…"
She speaks to finding contentment, something most of us–if we're being honest–probably can't say we've experienced much of in our years trying to make it in this rat race of a cruel, mean world.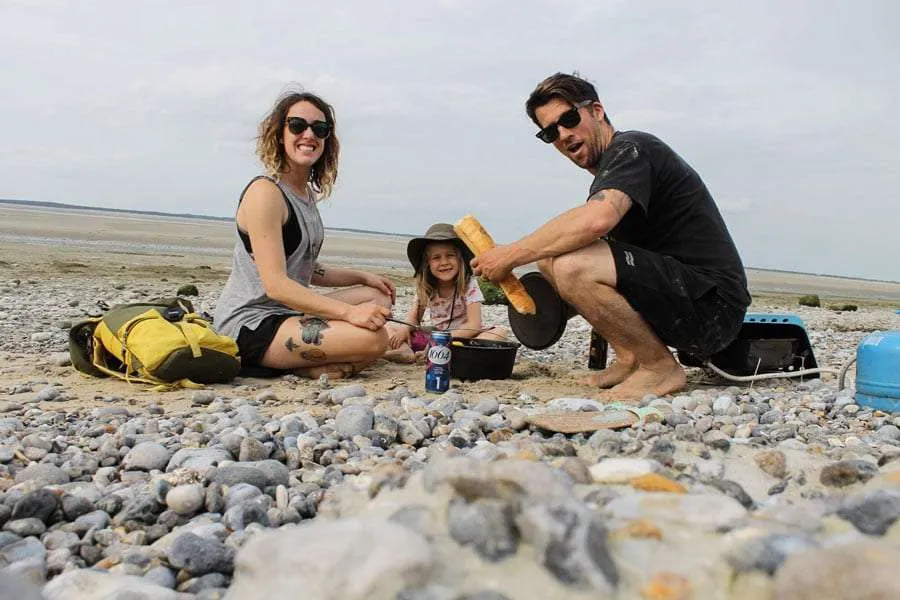 "I can still feel the moments of total ease, of not wanting more or less. When we were in it, it was so languid and blissfully slow. The preparation of meals was an important nightly ritual, as was looking at our maps before bedtime. Henley was responsible for helping set up the van at the end of the night, and she had chores like doing the curtains, helping with the dishes," she pauses, "Something that was relatively constant was bedtime: story time is a big deal to us."
She thinks for a moment, "Except when we circled the wagons with other travellers and our children ran wild in the night."
Reluctant to speak of any particular places as their favorite, she finally betrays that "twist my arm, France is unmatched in my eyes.
"I love how the French keep us on our toes—just when we thought we'd earned the right to consider ourselves proper francophiles in some way, they would only have to slightly raise one eyebrow or purse their lips and our dreams would come crashing to reality."
"Portugal's Northern Coast, Germany, Austria," she rattles off a few more locations. "Slovenia was the dark horse of the trip coming out of nowhere and making it on our favourites list. Because we spent most of our time on backroads and small towns that were decidedly off the tourist path, I think we were looking for the vibe of day-to-day life. Some countries had astounding major cities, but it was the moments in between the must sees that made it for us. Best Camp Spot Overall Award goes to Stonehenge, where we wild camped in the shadow of the stones; or maybe on the Normandy beaches in France; or, maybe in the camper community on the beaches in Tarifa."
Six months of experience sounds a little hard to whittle down into a concise list.
So, what about the details? How do visas work? Where did they get their income from?
The bigger hurdles some people feel, aside from just having the guts to make such a trek.
"Yes, it was the only really significant planning that we did for the entire trip as the van and our bodies were governed by a different set of restrictions," Jessica speaks to the Schengen Zone, a political boundary that limits Canadians, and Americans, to ninety consecutive days within its border (which consists of most of the EU). Their van was given six months in the EU proper, and they only 90 days in the two dozen or so countries that make up the Schengen Zone, every six months.
"Some countries are within the EU but outside of the Schengen, and vise versa," she explains. "This just meant that we had to tailor our route to allow for three months outside of the Schengen Zone after our 90 days had expired." They chose Ireland and England, which don't fall within the boundaries.
And as for work?
"For the most part we took the year off. I kept up with a few freelance writing projects to supplement our savings, but nothing too intensive. We just worked our butts off and were extreme penny pinchers in the years leading up to the trip. We rented out our house, which covered our mortgage while we were on the road. We are fortunate that for us it was an option to work hard and then take a year off."
Three years to pay off their debt, and still able to return to their home when the trip came to an end.
"Though it certainly would have allowed a more long-term model of our life on the road," she conveys their approach to not selling their house, something many a traveler partakes in, "at the moment, the house is our retirement fund, provides a bit of rental income when we're on the road, and it is our safety net. As much as we've had a difficult time transitioning, I can't imagine the exponential increase in our flailing and uncertainty for the future if we didn't have a soft spot to land."
Both Jessica and Robbie speak French, "fluently," she tells, "albeit with a terrible accent, but lord knows with a glass or two of wine we make up for any grammatical shortcomings with enthusiasm and wild hand gesticulations.
"When we went into regions where the language wasn't even mildly discernible, like Hungary, Slovenia, Slovakia, or the Czech Republic, I would put together a little cheat sheet of important phrases and words: thank you, please, sorry, safe, camping, gas…"
The experience pushed them toward Henley understanding another language. Now that they're back, she's been enrolled in a French immersion kindergarten.
"We used French everyday while we were on the road, and having the option of being able to at least attempt to communicate in the two languages was invaluable."
More to how this experience might play a role in Henley's life, even though chances are she'll remember very little of it as she grows into a young woman on her own, "I hope that it ignited her spirit of adventure and adaptability. If nothing else it reinforced in us that there is nothing more important than spending time with your family. Being present. Listening. Watching them grow. I am proud that she is confident in herself when she meets new people and made friends quickly on the road. I hope that one day she will look at this trip and our travels to come and think that we did something big, worked hard for something big that we believed in, and made it happen. I hope she has memories of our travels, but maybe she won't and that's okay. Maybe the photos and our stories will one day inspire her to do something that seems outside the realm of possibility in her life that will lead to happiness and fulfillment."
How exactly then does one transition from six free-living months on the road, spending every moment of each day together as a family in the throes of adventure, back to the stick and bricks routine of living in one location?
"It has been difficult; the trip ruined us in the best possible way. We found it out there: this blissful balance of life and time, relationships with each other and the world and people in it. I wish I'd paid more respect to what a difficult transition it would be for us coming back. It's not to say that we are unhappy now that we are home, but it feels like we found something out there and we're not ready to give it up yet. We love to travel. One of the things I miss most about our time on the road is the closeness. We seem far away from each other here, in our house, at school, at work–mentally disconnected a bit. Being in the van as a family was an exceptional opportunity to savour the simple pleasure of each other's company, food, a good book, and a deck of cards. We had the luxury of time, and without the distractions you just become so comfortable in that space together."
The travel bug bites hard, and for some, it's an infection.
"It may take a few years of small trips around the Pacific Northwest," she goes dreamy eyed with anticipation, while still centered on the lesson of living in the now vanlife gave her, "while we save up for another big one, but it's all a life to look forward to. We live in a really beautiful area of the world and there are no shortage of places to explore and appreciate. At the moment my heart is in Europe, so while I get a bit melodramatic I am conscious of the need to look up at the mountains and breath the air up here and be thankful we live in such a beautiful place surrounded by nature, friends and family, and like-minded people to share beers with around the campfire."
For now, the moment is in British Columbia, and there are certainly less desirable places to live in the now.
"But, we have tasted life on the road and there is no going back; now, it's just the emotional strain of playing the long game again."
Next time, they plan to make the trip longer. Take more time in the places they enjoy, less money on gas and more on experiencing the slow traveling side of things.
"The hardest part for me has been dealing with the fact that we've just returned home from the trip like this and you have to train the brain to apply what you learned on the road about slowing down and being present and appreciating the simple values, while you are racing to trying to plan the next big trip."
More to Come from the Here Today, Vanagon Tomorrow