Thailand's Visa-on-Arrival Trip: Jungle, Bioconstruction and Temples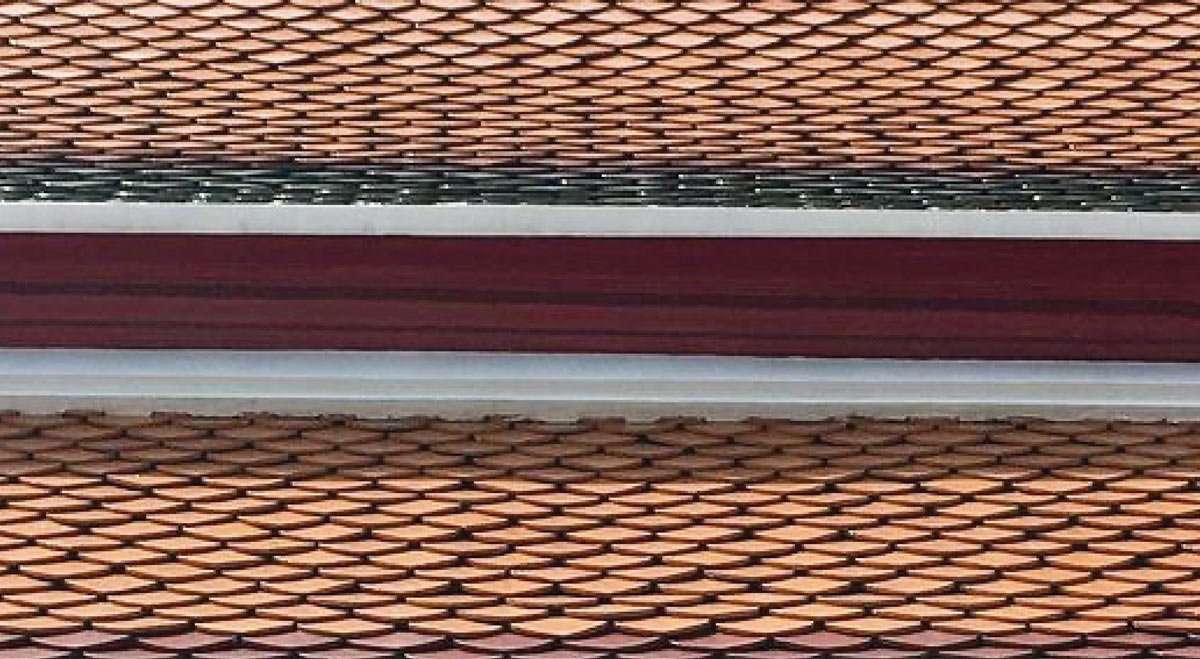 We planned our odyssey to Thailand by looking at beautiful pics on different websites.
Our plan: we'd stay for two months. Visit the jungle, the cities, islands. Later, we'd go to Japan.
None of this happened!
As inexperienced international travelers, we did not check the visa issue for Mexicans in Thailand on time…a week before we noticed that we needed it! Just imagine: we already had our flight tickets to Bangkok!
But, life smiled at us and a "visa-on-arrival" pass made it possible for us to stay for 15 days in this South Asian country, a law just recently implemented for some countries…from which Mexico was included!
Upon arrival we were sleepy, and a bit nervous.
We had no flights to go out of the country and our easy/fast plan was to cross the entire country on a train heading south to Malaysia.
"I don't care, guys!" I imagined the face of the immigration officer. "You don't have a hotel reservation and no baht," the local currency, "to pay for the cover for the entrance."
Lucky us! That night, they weren't checking, weren't asking for the payment. Why? We still don't know, maybe they were involved in the mess of receiving thousands of tourists after a long day.
"Wooho!" We saved that money (and got in!)
At 1am we took a taxi to Naty's house, a Couchsurfing connection. In the car, the taxi driver didn't speak English but did a good job trying. He told us about the city, the tourist attractions and politics. Hopping out of the car, we saw a different world, very similar to the one that we came from but at the same time on the other side of the mirror. Arriving at Naty's place, she welcomed us with mangos, sweet potatoes and warm food.
It was awesome, not expecting such amiability.
We took a bath and rested like babies, recovering energy to visit the city the next day.
Naty showed us the old Bangkok, huge temples with Cambodian influence, lots of buddha representations. Antique architectures, details and rituals were common and its energy has the remains of thousands of years of cultures, as well as the presence of modern times, industrialization, capitalism and external influences.
She invited us to a local market the first day to have lunch. Among a diversity of dishes, we will never forget the delicious "papaya salad."
"Do you eat spicy food?" Naty and her friend asked us.
"Of course!" we answered, "We're Mexican. Chili is kin…"
Gosh! it made us cry…it was hot. A nice sauce handmade in volcanic rock with many spices, crab, chilies and juices create this superb spicy dish.
In general, Thai food is awesome.
After three days, we left Bangkok, taking the train to the south, stopping at Surat Thani, in the middle of the jungle where Wichai and Naiyana received us at their place as volunteers to learn bioconstruction techniques.
Naiyana picked us up early in the morning at the train station and went with us to the market, advising us what to buy and supporting us as if we were locals, so others didn't charge us as rich tourists.
There's no dairy, yogurt, or beef.
None.
And what about the coffee? Thailand is a master coffee producer!
Nope, no coffee either.
Instead, they have coconuts. Thus, there's cheap great coconut milk, oil, dishes, etc. and the veggies and fruits offered are immense.
Frequently we wondered "What the hell is that rare fruit? Wow! And how do you eat it or prepare it?"
This parallel world shocked us.
At Wichai's place we were given a volunteer number, like 235, 236 and 237. Many volunteers were there before us and plenty of land, with a pond, hosts a house, baths, kitchens, and pretty magical bungalows, all made by them with volunteer help. Everything built with bioconstruction techniques.
Camila from Chile explained how everything worked. They were about to build a new kitchen, in an ancient style, with a stone oven. We worked from Monday to Friday, at maximum 3 hours per day.
More volunteers arrived, we met Marcos, Jachim, Leid and Steffano. The schedule was waking up early, taking breakfast, and later Wichai and Naiyana arrived with tools and the materials to work. It was hard, especially because of the hot sun, but Naiyana prepared us fresh food and desserts. We finished every day early, with plenty of time for rest, and still having the long afternoon to enjoy the jungle.
This area is full of monocultures. Palm trees and rubber trees have spanned most of the jungle, however it remains a majestic, wild nature. We rode bikes to the ponds, which were three and nearby our place. A couple of markets were close to Wichai's. His place was in the middle of the jungle, on the highway, away from any towns. Their folklore is unique. We spent the night in a full-moon party they celebrate every year where they danced, put on plays, and offered a lot of food and beverages in a joyful festive atmosphere.
Yeah, they were quite similar to Mexican parties. But on the other side of the world, it couldn't be more different.
We bought a decorated flower arrangement, along with the rest of our group. The ritual consisted in being grateful and to leave something, a thing that you accept and get rid of at the same time. In the river, you light the candle and leave the arrangement after offering it, leaving it to flow of the stream.
Our time in Thailand finished after days of cooking with all our friends, co-working online in the afternoon, watching films at night, going on a bike ride to the ponds, looking for coffee at the markets.
Having fun every day.
We finished a considerable part of the kitchen we were building, and happily left, thinking immediately how we'd want to get back and to visit them again.
Naiyana picked us up one morning to give us a ride to the train station. We said goodbye. We were grateful because she even made us some breakfast. Then Wichai arrived on a bike and he seemed more kind and happy than ever, really letting us know how grateful he was to have met us. The joy of healthy collaboration in volunteering is unmatched.
On the train to the south, we admired the green and deep jungle surrounded by houses built sophisticatedly. We bought some fruits, water, and rice on the train. Yet another train later, and around 10 pm, we were in Padang Besar. The transition to Malaysian culture was gradual and at midnight we took a bus to Kuala Lumpur.
Luka is a hero, especially on long journeys, even for 24 hours. He has control of himself, of when he eats and sleeps, and also personal space and patience.
I had some baths in my coin collection which reconnect me immediately to our days with Cami, Naty, Naiyana, the intense deep jungle and the cold ponds in this paradise that is calling for us to return again for new adventures.
Hopefully, for more than two weeks.