Surviving Florida: A Full-time RVers Guide to the Sunshine State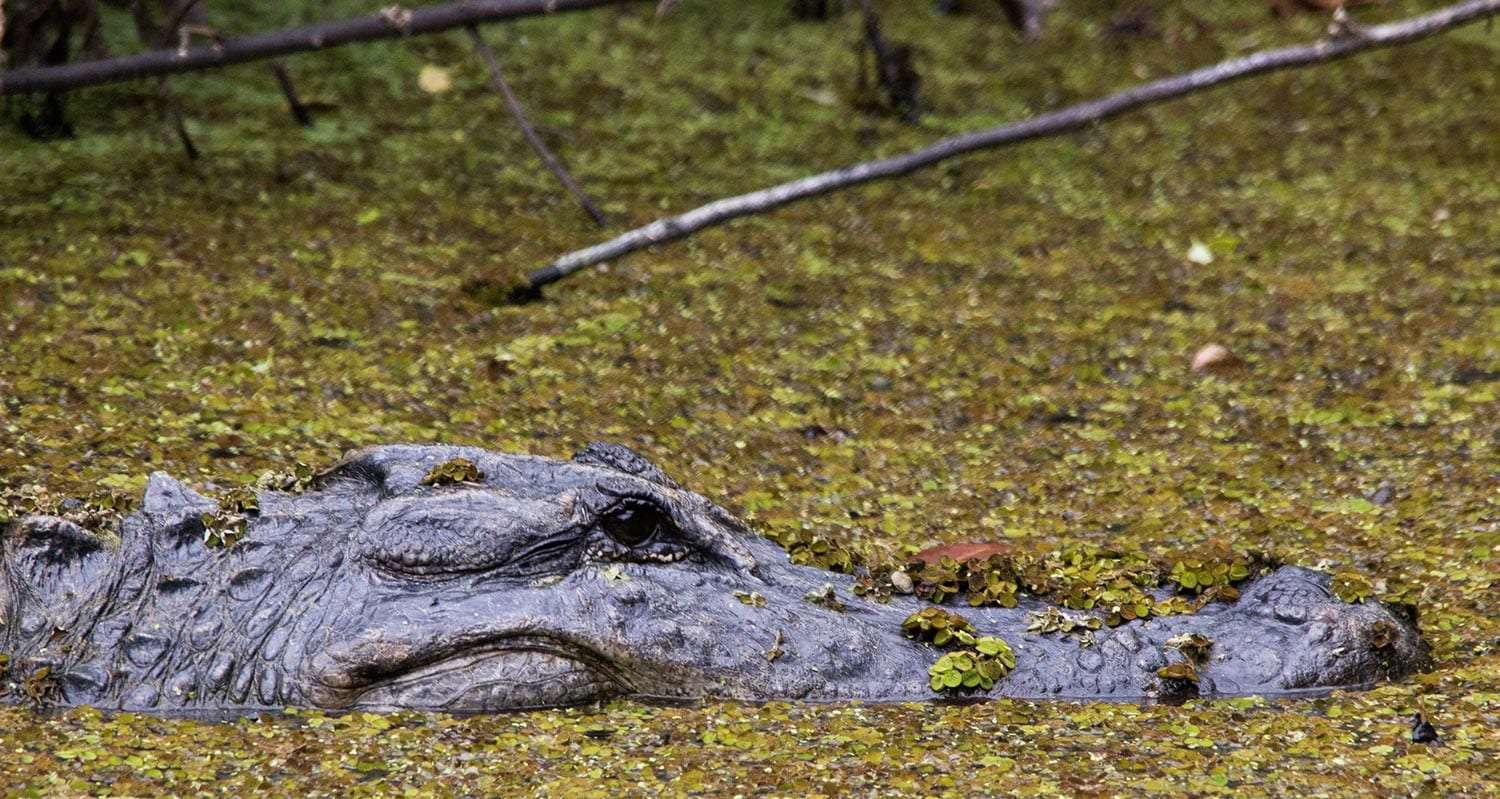 I've got a love-hate relationship with the Sunshine State.
One on hand, I hate Florida. Then I look over to my left hand and realize that there are people in Florida, family, that I love. So we end up there once or twice every two or three years.
Back to my right hand, I love what natural areas are left in the state. But I absolutely hate just about every developed place we've been, from the sprawl of the coasts to the strip mall that the Keys have become.
Then there's the weather. Yeah, it's awesome. Well, it can be humid and hot as dog in a microwave during the summer, but it's more or less the only guaranteed place to find non-stop warmth all winter long. This past winter, 2014/15, even Texas, Arizona and Southern California were running out of space heaters and hoodies at the local Target, when temperatures were dropping into the drastically-cold-for-those-of-us-who-live-in-an-RV climes of the mid-50s. I watched as friends out west shivered away their January while I was dripping sweat happy hot hanging around the Everglades.
So regardless of which hand I let do the talking, for me in particular–and many of my fellow nomads–Florida becomes a destination at one point or another.
Here's how to survive, even thrive, in a state where crappy RV parks are a dime a dozen (and by that I mean $99 / night) and freeway traffic will make you question America's inevitable demise along I-95.
State Parks
First, let's tackle "where to go", or perhaps more accurately, "where to stay".
It's a fact, the private RV parks in Florida are crazy expensive. And they're not even all that nice. Most travelers who've been on the road for awhile will admit to having stayed at some ritzy RV resort in Phoenix or California. They're expensive, sometimes over $100 / night, but they're nice. Think pools, game rooms, spas, that sort of affair. Like luxury hotels but you bring your own room.
In Florida though, every permanent-resident dangerous-dogs belligerent-locals RV park seems to slap an "RV Resort" sticker under the welcome sign. They're more like abandoned trailer garbage dumps than anything resembling a resort. You're inches away from your neighbor, the amenities are non-existent, and the price is still high.
Some "case studies", if you will.
A KOA in Naples where I stood up from our picnic table and nearly split my skull bashing it off of our neighbor's slide out, which literally was hanging over our picnic table. Not the neighbors fault, the KOA has each site packed in so tightly that those guys with the big rock star Class As can't extend their slides without intruding on the guy next to them's three feet of concrete slab they're calling an RV spot.
Or there's every single RV park in the Keys, with the notable exception of Sunshine Key RV Resort (which does just about live up to its name), where you pay close to $100 for a slice of parking lot without a view of the water. It's pretty hard not to have a view of the water when you're in the Keys, so that's impressive in a way that lends the word to having a very negative connotation.
So how does one dodge all of this hullabaloo and still enjoy America's wang?
More or less the way you do anywhere else: seek out the state parks.
In the northern areas of the country, this is easy. State Parks are plentiful, and there's usually some availability all winter long.
In the southern bit of Florida, especially in the keys, this can be downright impossible. Luckily, a pair of full-timers by the name of Watsons Wander done went and made an app for exactly this. It's called "Campground full?" and it's a web app with one purpose: you tell it which state park you'd like to visit, give it a time frame (ie, "March" or "February 10 – 25") and then tell it how many nights you'd like to stay. When something opens up, you'll get an email and can dart on over there and try to book it up before some other wise ol' traveler does the same.
Five Best State Parks in Florida
Not all state parks are created equal, and while picking five of Florida's 47 state parks that offer camping suitable for RVers is kind of like telling your wife who your five favorite girlfriends before her were, this is a pretty good launching point for all of the state.
Bahia Honda State Park near Big Pine Key
I don't love the Keys, but I think I don't love Big Pine Key the least.
My problem with the Keys in general is that they're more or less one big flip flop store. You can't walk around much, except in the crowded streets of Key West, and what natural areas there are typically pack up before most of us like to roll out of bed.
That said, Big Pine Key feels the least touristy, the least likely to make you want to spend $75 on a pair of sandals, and the most likely to offer a bar or restaurant with a nice view of the water that doesn't charge $6.50 for a Bud Light.
Bahia Honda, just over a short bridge from Big Pine Key, is therefore my top pick for state parks in the Keys. It's one of the few places in the Keys where you can find an actual beach. To clarify that, there are lots of beaches in the Keys, but most of them are not natural…it's just the way these little islands work, they don't lend themselves to big wide beaches like you'll find in the rest of Florida. "Fake beaches", those that have been created by man, usually as part of some hotel or local park, tend to be very steep and pack up quickly, but here we were able to hang around a chunk of sand, with pristine water rolling in slowly, for hours without too many other people around.
There's also a fun, if short, nature trail that tells you all about the mangroves and palms native to the Keys. If you're into learning about the ecology of a place, this is where you can see what things would have been like if humans hadn't cowabungled up the place so badly over the past hundred years or so.
If you can't get into Bahia Honda, look into Sunshine Key RV Resort. It's a two or three minute drive to state park and there's more info on how to get a good rate on it below in the "Thousands Trails / Ready, Camp, Go!" section of this article.
St. George Island
Up in the panhandle, the state park offerings are many, but we enjoyed St. George for its proximity to the cute, if a bit elderly-focused, town of Apalachicola. Gorgeous sunsets every night of our stay, combined with an easy walk to a very natural beach surrounded by baldcypress trees and layered in sugar white sand made this a great place to hide out as we exited Florida.
In contrast, Blackwater River State Park was more of a traditional "out in the woods" affair, and Topsail Hill Preserve had a significantly more "RV Park" feel, though both were beautiful and enjoyable in their own particular ways.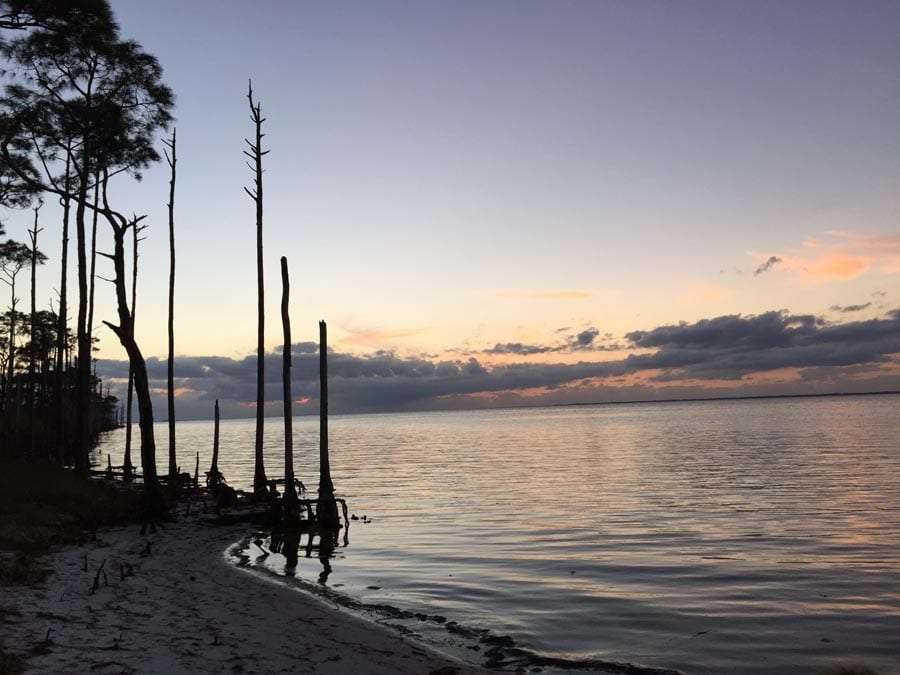 Paynes Prairie Preserve
Closer to the northeastern side of the state is a beautiful state park where you can watch the Spanish moss swing to and fro as it hangs from massive live oak trees, where alligators and feral horses and even bison can be spotted darting around a gargantuan open area that serves as their protected habitat. This is not what most people imagine when they think of Florida. It's the pine forests meet the jungle. It's thickly wooded, and there is no beach nearby. And it was a perfect place to call home, temporarily.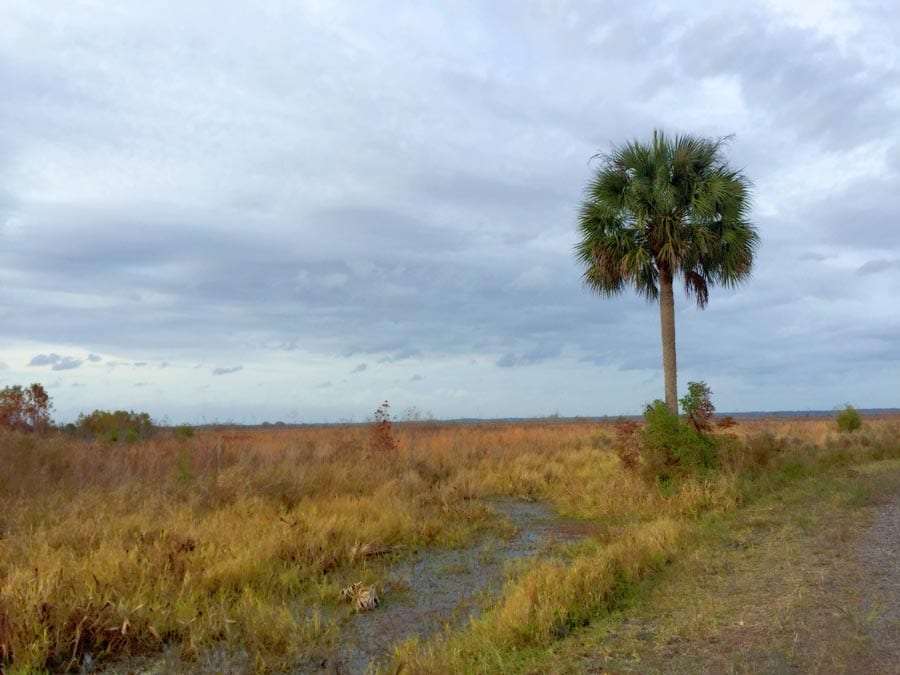 Anastasia State Park
Salt shaker beaches where quarter mile long boardwalks carry visitors over expansive dunes separating the dripping-with-life forest from the ocean and well spaced camping sites–especially in the tent loops, which are suitable for small RVs and vans, too–make this one of our favorite campgrounds and state parks to explore. The live oaks here are so covered in lichen, moss and Spanish moss, the ground so full of foliage, that this tropical paradise feels like something out of Washington state. Nearby St. Augustine and all of the little cafes, food trucks and things to explore on the island where Anastasia rests make this an even more delightful place to stay.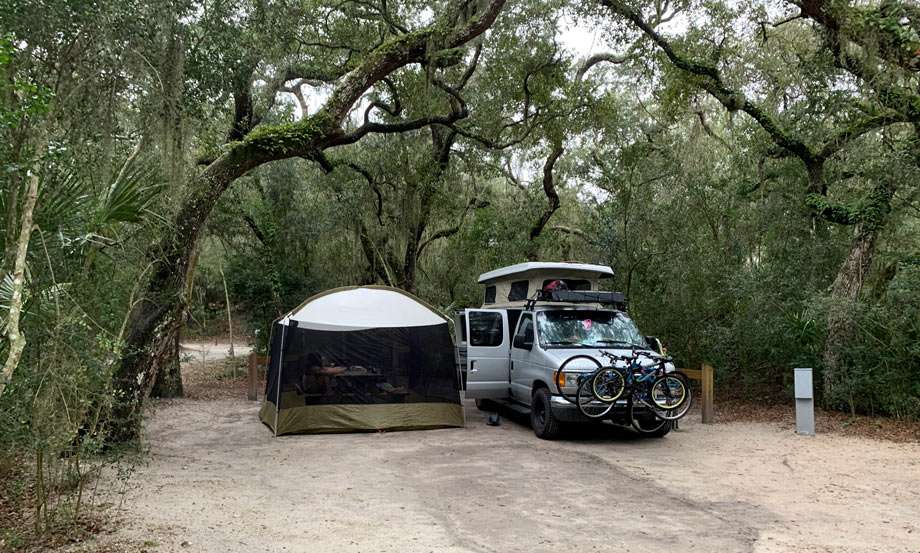 Rainbow Springs State Park
I wondered how many people might have done an overnight in this park's campground and never understood the true beauty of the park.
The campground itself is nothing special, though not particularly bad either. To fully experience the park, though, you'll need to get out on the river itself.
As you paddle upstream, toward the springs, pure nature rides the right side of the water. Birds flock in and out of the forest, you can see straight down to the bottom of the river as fish school around your kayak, and turtles bask on corner logs trying to soak up whatever heat they can find before diving into the cool splash of safety as you approach.
Divers emerge every now and then. Birds perch on the occasional warning sign. The sun is hot, the water sparkling.
On the other side of the river are endless houses, the local community and vacationers watching and waving as you pass by. None of it is too tacky, all of it is low key. It's an experience of, if not a lifetime, certainly an excellent week's vacation. A riverside bar is ready to serve you decent food and cold margaritas when you're done. And then back to your campsite for a fire and a cool evening night.
Other Notable Mention Florida State Parks
The above list could easily be altered, and the Sunshine State is thick with great state parks. If you want to continue the search on your own, look into Long Key State Park, St. Joseph's Peninsula, Manatee Springs, O'Leno and Silver Springs State Park, none of which will disappoint.
Our Favorite Places in Florida
Years ago we'd only spent about a month in Florida total. At this point, we've been there for a considerable amount of time, over a bunch of different trips. Sometimes in the unbearable heat of the summer, but mostly in the cooler months between Thanksgiving and February. I think we've covered almost every corner of the state at this point, and here are our findings.
Three National Parks
I'd love to throw out multiple shout outs to the state's National Parks. Florida has three: The Everglades, Dry Tortugas and Biscayne.
Dry Tortugas is a water park. Well, there's an island, but you can't exactly RV on it. So we didn't.
Biscayne is a similar affair, but though you can drive up to it–and walk around the visitor center and grounds surrounding–unless you brought your own water vessel, you're severely limited in exploring this park. Camping is only available by rowing out to primitive island campsites.
The Everglades, on the other hand, are ripe for RV camping.
What I can say is this: it's beautiful, and there are a lot of mosquitos.
The little bastards infiltrated our Airstream so heavily that our children woke up looking like they had the mumps. Through every available tear in our screens or the little slivers where the handles have leverage to swing the windows open, they came in quickly and there was nothing that could be done. We tried candles, bug spray, swatting them…they were relentless and alas, they won. We left after only one night in the Everglades, though we'd planned to stay a week.
I hate to be defeated by nature, but on a positive note I can tell you this. As the rest of my family slept, I simply rode a bike around for hours until the night grew cold enough that the insects all went to bed. I saw osprey perched in their nest, thanks to a flash light and them not caring much about my proximity, and in the morning the boys and I watched a manatee swim around the marina and countless birds doing their "I'm too sexy for anything north of Miami" thing.
In the end though, I don't see a return to the Everglades as being a priority.
Big Cypress National Preserve
The southern bit of the national park that is. Along the entirety of US 41, largely the park's northern boundary, there are a few ranger stations and easy walks that are still technically part of the national park, but it's when you get into Big Cypress National Preserve that the beauty of the Everglades begins to shine. The US highway was built by digging up a channel and placing it just south of the thusly created hole. The side effect, while not particularly wonderful for nature, was simply that a small canal of water was created, ever present as you look north from the road.
This canal is, at every single moment of every single day, full of exotic birds. Great herrings, great blue herons, roseatte spoonbills and wood storks can be seen with little effort other than focusing your eyes out the window of your car. It's a spectacular sight to behold, and when you learn that only 10% of the original population of fowl are left, you wonder how entrancing being here 150 years ago would have been.
Best Small Town in Florida
Apalachicola wins for us every time.
Most of Florida is completely covered in sprawl. From Miami to Jacksonville, from Naples to St. Petersburg, there are very few true small towns–those that don't have a big strip mall around them connecting them to the next city center–but Apalachicola is far enough into the panhandle that it's survived this blight.
Cute coffee shops. Old boats on displays. Good to great restaurants.
Definitely worth checking out, and nearby St. Joseph's Peninsula and St. George Island State Parks are perfect places to stay and enjoy this northern coast of Florida.
As for runner's up, Siesta Key and St. Augustine didn't disappoint, though a very different experience they are indeed.
Read about more small towns we've discovered in Northern Florida.
Surviving the Traffic
I-95, which runs from the Georgia/Florida border all the way to Miami, totally fucking sucks. Excuse my language, but it just does. Florida drivers are, hands down and absolutely, the worst drivers. They all speed 20 miles or more over the limit, and will accelerate the moment they see that you're trying to get in front of them to pass someone else. It's like they were all raised in a barn, but the barn wished it was a NASCAR race car, and was on fire.
It's ridiculous.
So how does one avoid I-95? Well, take I-75 if you don't care about which side of the state you're traversing, or better yet take some of the back roads on the western coast or the middle of the state. If you absolutely have to travel the eastern coast, do yourself a favor and snag a Sun Pass and just stick to Florida's Turnpike. It can still be fast, and a ton of lanes, but it's easier by far to negotiate a road where people have chosen to pay money to get away from the insanity than to brave the accident-waiting-to-happen that is Interstate 95.
Thousand Trails / Ready, Camp, Go! Pass
If you can't get into a state park, or don't want to, your next best bet in Florida is to sign up with Thousands Trails or Ready, Camp, Go!
These passes get you extremely discounted rates on parks that are in there network.
For example, with Ready, Camp, Go!, you can buy a "Plus" membership for $49 / year. That gets you access to the Encore and Thousand Trails network of private RV parks. Some of them are still a bit run down, others are pretty darn nice. Either way, they're all the same average level of service and amenities that you'll get at any private RV park in Florida, but at a huge discount.
With the $49 Ready, Camp, Go! membership, you get 15 nights of camping for $25 / night. So when we stayed in Sunshine Key RV Resort, instead of paying the $79 / night posted rate I saw in the campground office, we saved $270 over our five night stay. Well, there was some additional "reservation fee" but it was minimal, and after using all 15 nights of our discounted camping we ended up paying around $31 / night. Not necessarily cheap, if you look into state parks anyway, but cheaper than what you'll find around Florida otherwise.
If you want more nights and greater discounts, they have other levels of membership, and both Thousand Trails and Ready, Camp, Go! are nationwide, though they typically only sell you a pass for one corner of the country; so ours was only good for the southeast, and if we wanted to–which we don't–stay in private parks in Wyoming or California, for instance, we'd need to buy those areas membership.
What to do in Florida other than drinking and sunbathing?
Finally, you've got your "where to go" and "where to stays" all lined up.
But now what are you going to do?
Florida is known for things like space museums and having a ton of amusement parks. If you're not into that though, here are a few ideas.
Birding
There are over 500 species of birds of native origin, or which have been introduced by man but now thrive in the wild. If you have ever considered taking up birding–that is, looking for and identifying birds–this is the state to do it. The birds here are often quite large, and easier to distinguish than small, similar looking ones in other parts of the country.
And they are everywhere!
We were but dabblers in the spectator sport of birdwatching when we began visiting the state, but while in Florida–particularly in Big Cypress–it was one of our main activities. In the years since, we've seen rarities like wood storks, whooping cranes, even flamingos.
Hiking
Not exactly a hiker's paradise, the highest point in Florida is barely above 300 feet. Instead of mountains, much of the state has named "mounds", thirty or forty feet high clumps of earth that were different enough from their largely sea-level surroundings to warrant a name.
But that can make it a beautiful place to hike, especially for people who don't love strenuous hikes or for young children. You just take off, flat land for as long as you'd like, and have more time to survey your surroundings instead of watching out for cliffs or big rocks. Note that hiking through dunes or other sand can be as physically demanding as climbing straight up though.
Great hikes in Florida range from trails cutting through forests of live oak to manmade boardwalks rising above the swamps.
Palm Trees
A dendrologist, eh?
I love studying trees, and palm trees are one of the most rewarding to observe. They can be difficult to distinguish, particularly because of the thousands of species, it can be very difficult to tell which were brought to the Sunshine State and which are native. Get yourself a good book on the subject and kick back at almost any beach where a variety will have been planted.
The mesmerization of just watching their fronds sway in the breeze alone is enough to soak up an afternoon.
But whether you're looking for a picturesque Corona commercial vacation or you really want to explore "The Real Florida", as the state park system claims itself to be, the state is one of the few places in the US that is truly different. It's a subtropical climate, and until you get into the rainforest of the Pacific Northwest or the deserts of the southwest, you won't find anything as different from what most Americans grow up with in this vast and wonderful nation.
If you've got to go to Florida, that's how you do it.