Paradise on Pennies: Living in an SUV
First, there were full-time RVers. Then #vanlife took the scene. And now overlanding–typically referring to long distance travel over a long period of time, often in an SUV–is all the rage.
There are a plethora of ways to get around the world, and minimalism tends to tie into all of them, but perhaps never quite so extreme as with folks like Ramsey and Heather Ferrie, a couple of 30-somethings living out of "The Great Escape," their Ford Escape SUV, along with their two rescue dogs Lillee and Kluane.
"Lillee was rescued from a pound in Florida," Heather tells from somewhere in the Coast Ranges of California, "She's been from Florida to Alaska and in between. She loves car rides, sunshine, mud puddles and the beach." The couple has an affinity for saving dogs from whatever fate they may otherwise suffer at the hands of humane societies and pounds around the nation. "We rescued Kluane," she continues, now speaking to their younger dog, "from a humane society in Montana. We named him after one of the most beautiful and wild places we've ever been: Kluane in Yukon, Canada. Our goal this year is to take Kluane to Kluane."
She says that traveling with their dogs is a win for both the humans and canines. "It fills us with joy to see how happy they are to explore and spend every day with us." Aside from a few mishaps–Lillee puking into Heather's hiking boot or Kluane finding himself in a showdown with some cacti–they couldn't be happier with their decision to travel with their pets.
"We've placed a major emphasis on living a simple minimalistic lifestyle to keep our expenses low," she speaks to how they finance their full-time wandering. "This lifestyle aligns with both our value of the environment and our desire to live freely."
To prepare for roadlife, they first simplified their former life in general. "Living with less meant we could save money to put towards paying down any debt and limit monthly bills. After that, any extra we made from working could go into savings. Now, our bills consist of just one cell phone and basic vehicle costs. The only other money we need is whatever it takes to cover food and gas. These are variable costs, so we can judge from month to month how much fits into the budget. We also strive to keep these low by supplementing our food with foraging and by strategically choosing ingredients that make more meals for the price." She wants to clarify that they were not rich, and that this life is not solely for the wealthy or the retired.
"We simply had a different state of mind. We like sharing our story so others can see how obtainable this lifestyle really is. We're just a couple of millennials who realized how amazing and short life is and we want to make the most of it. We oppose mass consumerism and want to be the change we wish to see for the betterment of our planet. We realized our time," she references sharing their days together, pursuing their passions, spending their hours in nature, "was way more valuable than 'stuff,' which is inversely related to the time we sought more of."
The couple now lives on a mere $6,000 a year, and they replenish their coffers with one seasonal job every year. Heather teaches courses online to this effect, and any money above that number goes into savings, just in case of some future unforeseen emergency.
She's also been working on comparing a traditional "stick n' bricks" lifestyle with the one they now lead.
"We estimated high for us and were very conservative for the other lifestyles, just to be fair," she tells.
"We found that on average the traditional household needs a minimum of $3,000 to get by," she's referring to monthly expenses for folks living in a house, "much of which is made up of just rent [or] mortgage, utilities, and car payments. Once we add in the 'extras' including food, gas, clothing, shopping, toys, entertainment, vacations, insurance, maintenance, eating out, entertainment, coffees, and so on, this figure jumps up fast! Some people drop $5,000 on just one vacation for the year! That's our whole year's worth of expenses now!"
It's clear that she's proud of the way they've carved their own way in life, and rightfully so.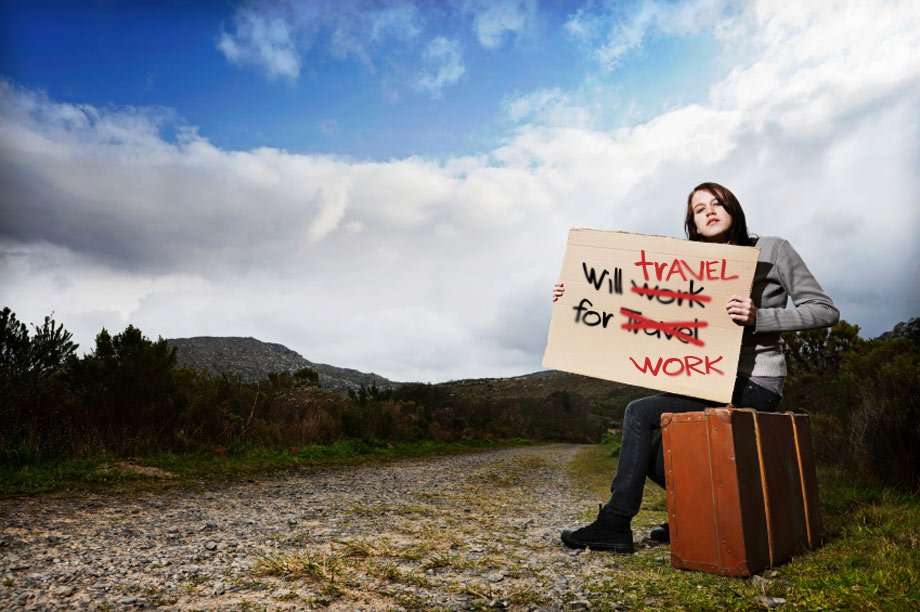 A plethora of information from initial steps to actual positions that are traveling compliant to stories of people who are already doing it. We live and work on the road, so can you!
"…if we look at the household requiring at least $3,000 per month to get by, they need about $36,000 per year to cover the basics. Again, that excluded much in the way of 'extras,' and likely requires a full-time job which forces immobility in most cases. Even online work would require WiFi and plugins, which reduced the ability to travel off grid, boondock, and spend all day in the wilderness. The only solution to the true freedom we are seeking is needing less funds!"
Of course, many of us who live on the road full-time still work and find a way to make cell reception connectivity to the web and solar power work for us, but there are certainly times when it's necessary to compromise on location in exchange for sun and cell, and of course…we're working much more often than one seasonal job a year or so.
"With that," Heather continues, "the difference is at least $2,500 per month ($30,000 per year), for money. We also save over 80 days per year worth of 'time'," she's comparing their time to the typical 9 to 5 gig, "that we can do whatever we want with."
Part of this money-saving expedition is, of course, boondocking, i.e., living off grid in the multitude of free camping that's available in the United States.
"There are two major reasons we prefer boondocking," she explains before beginning with, "[The] cost. Paying campground fees could push our expenses beyond the budget. Since we're full-time, just $10 per night camping–something most consider cheap–would cost us another $3,650 per year! That's more than half our budget now!"
The second reason they prefer boondocking is simply for the nature of it. "We like getting 'out there'. There is a certain thrill we get out of the adventure in finding a remote camping spot, with a killer view, and peace and quiet."
They owned their SUV before hitting the road, and so it seemed the natural first choice of a home to do so in.
"The Great Escape is the vehicle we happened to already have before setting off on the road. So, we made it work. Since we've been on the road, however, we've grown to see how perfect it fits our needs. We determined that, even if we could, we would not upgrade to a larger rig or pull behind. This is primarily due to our need for extreme remote boondocking. Most of the places we stay would not be accessible with a larger setup or lack of four-wheel drive."
So where have some of their favorite places been? Kluane National Park in Canada's Yukon tops the list. "It still feels wild here. We backpacked 30 miles into this amazing wilderness, seeing only moose and grizzlies along the way. It's part of a vast wilderness of over 34 million acres across Alaska, BC, and the Yukon, with huge mountains and volcanoes, vast glaciers, and wild rivers."
After that, she mentions the Pacific Northwest. "We absolutely love the Cascade volcanic range, the thick old-growth forests, and dramatic coasts of the PNW. We got engaged and married in the North Cascades on a high alpine meadow hike." The cost of their wedding? $14 USD.
The story of a young scientist, his ax, and a 5,000 year old tree.
Number three on the list are the White Mountains in California. "This mountain range is located adjacent to the beautiful Sierra Nevada mountains. It gets far less traffic but does not lack in views or interesting adventures. In fact, White Mountain, which we hiked, is nearly the size of the more well-known, Mt. Whitney. The Whites also boast an ancient bristlecone forest with trees around 5,000 years old! The mountains are dotted with eerie old mines, a range of ecosystems, & dramatic views of the Sierra Nevadas."
Like many vandwelling families or even RVers, the couple laughs a bit when asked about how they "fit" into an SUV for a home, and admits that there is very little time spent inside of the Great Escape. "We don't spend all day in it! We're only really in it when we're sleeping. Otherwise, we're out doing what we love, typically hiking. We sleep in the SUV camper when we're in town but prefer to tent out when we're in the wilderness.
"We cook on a campfire with a cast-iron pot or use a camp stove to make meals. We use a filter for constant access to clean water."
Some folks who set out to live on the road have a goal in mind, to spend a year traveling the national parks, for example.
"Obtaining this lifestyle was the goal," Heather explains. "Now, we just wish to continue as long as we can. Our primary goal is happiness. This lifestyle has given us all the ability to live wild & free and spend our time together rather than working life away. We love the adventure and learning along the way.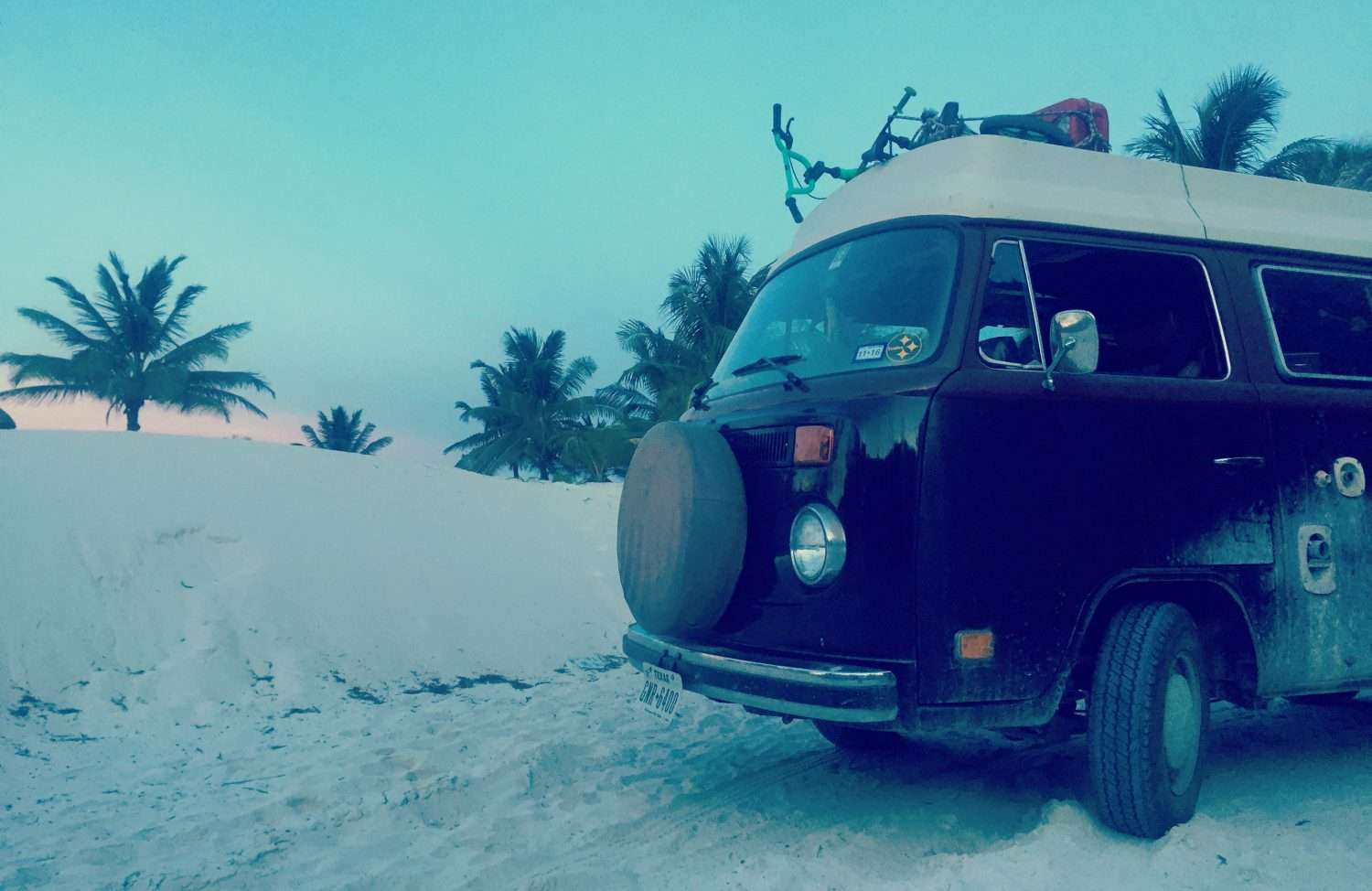 Musings on Mexico, half way through a yearlong adventure starring a bunch of hippies, their kids, and a VW Bus.
"We want to explore as much as we possibly can in this short lifetime. We have been to all western US National Parks and many in Canada. We've made it to the far north in Alaska and we may also travel into Central America in the near future to expand our journey into the farthest reaches possible."
"We have no plan to live 'traditionally.' We do not own a home or have a home-base. The SUV is our home…"