Shipping a Van to Europe
For the vast majority of Americans looking to travel Europe via a van or some similar mode of transportation, shipping a vehicle from North America to Europe will be the most realistic reality.
It's certainly possible to rent once you're there, but in most cases that'll be financially impractical. Purchasing a vehicle in Europe is also an option, though complications such as registering a vehicle if you are not a resident of any country make it difficult. There are ways around this, such as finding a lax nation–England is thrown around in some circles–or getting a special temporary export registration such as one might find in Germany.
But if you've already got your perfect home on wheels and just want to bring it along to all points across the Northern Atlantic, you're looking at sticking your ride on a boat and meeting it on the other side.
We reached out to a few families who've done it to give you a taste of what all is involved.
"I really believed we were always going to be able to make it happen," says Jessica LeFroy of Here Today Vanagon Tomorrow, who–along with her family–shipped a Vanagon to Europe a couple of years back.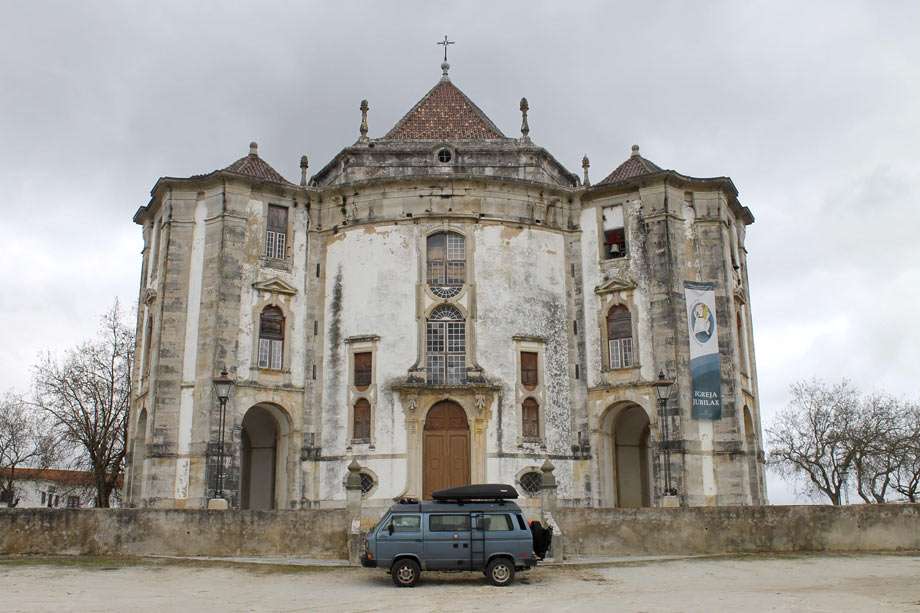 "I am sure there were loads of people who had done it before us, but when we shipped over in 2015, there wasn't a wealth of resources that explained the ins-and-outs of shipping a vehicle overseas or detailed other traveler's experiences, so a lot of the time was dedicated to just understanding the logistics before figuring out how to make it happen."
Hours of phone calls with shipping agents, forwarding companies and various countries' customs agencies later, she realized that was just the beginning of the rabbit hole.
"…trying to sort out temporary import permits, required insurance, regulations," she recalls, "I always knew it was possible, so the work never seemed overwhelming, it was just a lot of moving parts to sort out. The only big curveball in the whole planning process for us was when we discovered the Schengen Zone, which changed our intended timeline and route through the continent pretty significantly."
The Schengen Area consists of 26 countries that have more or less agreed to allow unrestricted flow of traffic between their borders. Much like when traveling the United States one doesn't need to go through any type of border check to cross from one state to another, the Schengen Area (which is larger in both land area and population than the US) provides the same for those Europeans living within its borders. For the rest of us, there are limitations to how long we can stay.
For example, US citizens can normally stay for up to 90 days in the Schengen Area without a visa. It's also possible to stay for a longer period of time, which typically involves applying for residency status, and on the other end of the spectrum, it's entirely possible for officials to deny you entry at all.
As to the cost of shipping, Jessica recalls that it was under $3k to get there.
"The trip over was $2750, which I think included all the port fees on our end, insurance, and the cost of splitting the shipping container. We had to pay some port fees in the UK in order for them to release the vehicle, a couple hundred pounds," she does a barfing imitation. "The way home was I think 900 euros to ship roro," aka "roll on, roll off" which basically means their van was not in a shipping container, "and there were again some fees in Halifax to release the van from customs, but nothing crazy."
Those costs are shipping from Vancouver, British Columbia to Tillbury in the United Kingdom on the way there, and from Zeebrugge, Belgium to Halifax, Nova Scotia. The difference in cost to get there versus get back can be accounted for by factoring in that British Columbia is on the "wrong" side of North America for reaching Europe, and also that they used a shipping container on the way there but the van was just sitting on deck on the way home.
"Our port in Vancouver unfortunately doesn't offer the less expensive roll on, roll off option," she explains. "For a time we considered driving across the country to a port on the east coast which would help us save a few galleons, but in the end we found an opportunity to ship the van over in a shared container out of Vancouver. Our decision to ship into the UK was based almost entirely on the fact that our shipping agent was able to find a man shipping a vintage sports car over to the UK and arranged for us to split the costs of the shared container."
"The way home was very, very chill. Mike "Busman" Plompen, who is a wonderful man and very well respected dealer in Belgium, organized everything for us." She reached out to him during their time in Europe, and he did the rest.
The costs mentioned don't include what they spent while traveling in Europe.
"I always intended on keeping track of expenses on some sort of a spreadsheet but as it turns out I much prefer forgetting the costs of things I really want to do." She recalls a few of the key expenses, though. "We paid a good amount for vehicle insurance and health insurance when we were on the road, but no hidden costs related to shipping as both our shipping agents had told us about the port fees to release the van on both sides."
Insurance was in the form of "Green Card insurance," a term which is in no way related to the similarly named card here in the US, but which fulfilled the legally required 3rd-party liability insurance and worked across the European Union. 
Driving around a continent that often drives on the "wrong" side of the road–as opposed to the side we drive on here in the US, aka the opposite of the left side–provided for a few interesting instances.
"There were some white knuckle moments when we crossed into 'other side of the road' countries. I credit Robbie," her husband, "entirely for keeping his family alive on roads that were so narrow and winding, and in a van twice the width of most vehicles on the road. Coming into England and Ireland each time we would pep talk each other and both would mutter 'stay left, stay left' to remind ourselves every time we turned a corner."
They also needed to find an adapter to help them plug in to the propane fittings in Europe, which are different than those in North America.
"Our friend Jed at Campervan Culture helped us source an EU adaptor so we could fill our tank. Our first week overseas was so hairy, our battery was drained on the voyage over and we used our house battery to get rolling, so we were just wandering around with no house power or propane."
Another family, still in Europe today, who go by the name of Mali Mish gave us their take on some of the details and processes involved in shipping their 4×4 Sprinter van to Europe, from the US.
An interview with a family of five who travels the United States in their Airstream travel trailer.
Having been on the road for years, they had no particular location in mind to ship from, and eventually chose Baltimore, Maryland simply because they'd heard of other people shipping from there.
"It is one of the biggest ports in the Northeast," explains Dan, the dad of the Mali Mish crew, "without being too close to New York City. Also we had not explored Washington, DC much and we thought it would be a good opportunity to spend a couple weeks there while we waited for the boat to sail across."
He explains that the process essentially involved some fairly mandatory steps.
First, you get quotes from shipping agents, many of which may never respond considering you are a infinitesimally small load compared to what they often deal ini when it comes to sending freight over an ocean. Once you've secured one, though, you choose a date and get confirmation by email with further instructions, like when to drop the van off and who and how to get what's called a "port escort."
This seemed like an optional step, but Dan explains that it really isn't.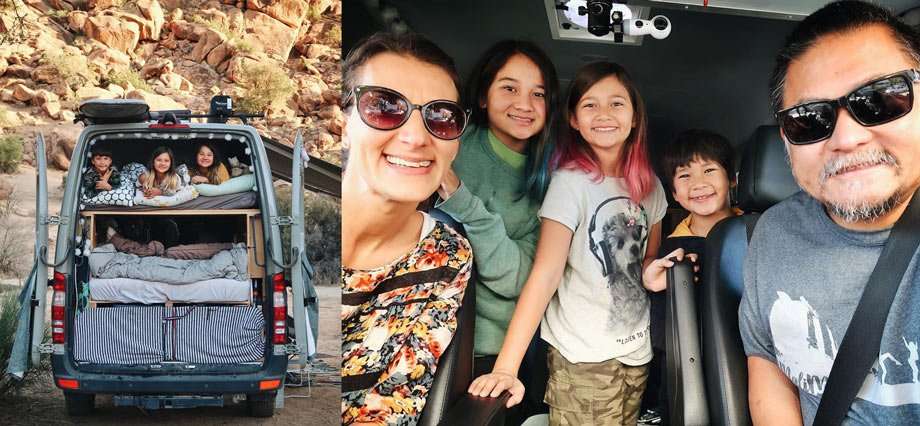 "I don't think we have any other choice but to have an escort. We were not allowed to be in there ourselves. But that being said, I think we would still do it even if we didn't need to because he knew exactly what we had to do and got us in and out of there much faster and easier." The cost for this service was $100. "It isn't exactly like boarding a ferry where you can just follow a bunch of cars. It would be pretty tough to make sense of everything on your own even if you could."
As veteran travelers in the US who intended, one day anyway, to return to North America but at the same time were building out a vehicle knowing full and well that they'd be headed to Europe soon after, they had to take this all into consideration when creating the latest edition of their home on the road.
"So, knowing the AC power here is 240 volt," Dan says, referring to Europe in general, "we didn't want to rely on needing to plug in to charge. Also we knew that the RV infrastructure is also very different here and we wanted to rely as little on North American standards as possible. That means besides going 100% solar and using no 110-volt shore power plug, we also chose to use portable water jugs for all of our tanks. The choice to go with a Sprinter van with a diesel engine still is a choice I am glad we made. It makes things very easy here since clean diesel is everywhere. But if we somehow decide to drive across Russian and Mongolia then we would have some issues. That is still up in the air so we will see what choices we have if we decide to do that."
The shipping agent they chose also supplied them with details on how to get the van ready to ship. The diesel tank should have less than a quarter tank in it, no propane in that tank, and it should be empty inside. The Mali Mish website does note that they left theirs full of their stuff, knowing full and well it may not make the trip along with the van.
Information available across the Internet will at times mention that, when importing a vehicle to Europe, it must be absolutely "free from dirt." Which could be difficult, considering the entire planet is made from the stuff. Not an issue, Dan explains.
"That was never discussed. We didn't even bother to wash the van much before we brought it to the port. It is much more of a problem for people shipping to Australia and New Zealand. Europe did not seem to care at all and our van went in and out of the boat without anyone asking anything about it."
Once they dropped it off, they were able to track their vehicle's progress.
"[The] tracking process was really helpful. From what we can tell it was very accurate. We could tell pretty much to the minute its exact GPS coordinates. It was also because of the tracking that we found out that it had actually sailed past us in Belgium and went to Frankfurt before returning to Zeebrugge," she same port where the LeFroys landed when shipping their Vanagon.
"Our original impression was that it would not make any stops but it did end up making two others before getting to us."
They were also surprised on Instagram when part of the crew onboard saw some mention of their Instagram account on the van's exterior, and sent them a message on the app with a picture of their ride safe and sound, on its way across the ocean.
As to price, Dan notes that, "Pricing seems fair. Considering that if hypothetically there was a transatlantic bridge and you could drive yourself across it would likely cost more in fuel. But of course we did have to pay for plane tickets to fly five people separately which added to the expense.
Listen to Dan and Marlene's podcast, along with the Bodeswell family on shipping to Europe.

"There doesn't seem to be any cost difference based on where you ship from and how long the journey. The cost is purely based on the dimensions of the vehicle. A smaller vehicle would cost less and that is about it."
Around $2500 – $3000 is thrown out by many a traveler who has shipped a van from the United States to Europe.
"Some costs are fixed like the customs and port fees. But from all of the other people who we've talked to about their roro experience, it seems that shipping the same vehicle 100 miles or 6,000 miles makes little difference in the cost. Most, if not all, of the expense is the logistics of getting the vehicle on and off of the boat and in and out of the ports."
His lovely wife, Marlene, a legend in the roadschooling and raising babies on the road circles, breaks down the costs of the actual shipping of the van in this post on their website.
Shipping agent = $1,739.00
Port Escort =$100.00
Forwarder = $750.00
TOTAL = $2,589.00
On a side note, Dan and his family are not as restricted by the Schengen Area, or EU laws in general.
"Marlene did not always have dual citizenship," he explains, "She applied around 2011 when we started to think about traveling here at some point knowing that it could help. Because her parents are from here she was able to get her Croatian citizenship through her bloodline. 'Bloodline Citizenship' is what it is called. In fact many European countries have this for people not born here. Since all Americans," not of Native American descent he notes, "came from somewhere, a lot more people who don't have dual citizenship can actually get it if they looked into it. Most countries will let you go back one, two and sometimes even three generations to attain it."
Their two daughters went through the same process as mom, applying for dual citizenship at the same time. Their son, Luka, was able to be added on during the process, which was delayed for awhile when the applications were apparently lost for a few years.
"I on the other hand," he continues, "do not have citizenship but have temporary residency as a spouse and parent of citizens. It was a thick, bureaucratic process to get through but in retrospect definitely worth the effort since it was what allowed us to come back here from Morocco during this pandemic mess. I need to renew each year 90 days before expiration so we have to be here for at least that period of time." He's referring to Croatia, where they've been more or less since things went haywire this year and they had to figure out how to make it back from Morocco–which is a country in Africa for the geographically declined–to Marlene's parents' homeland.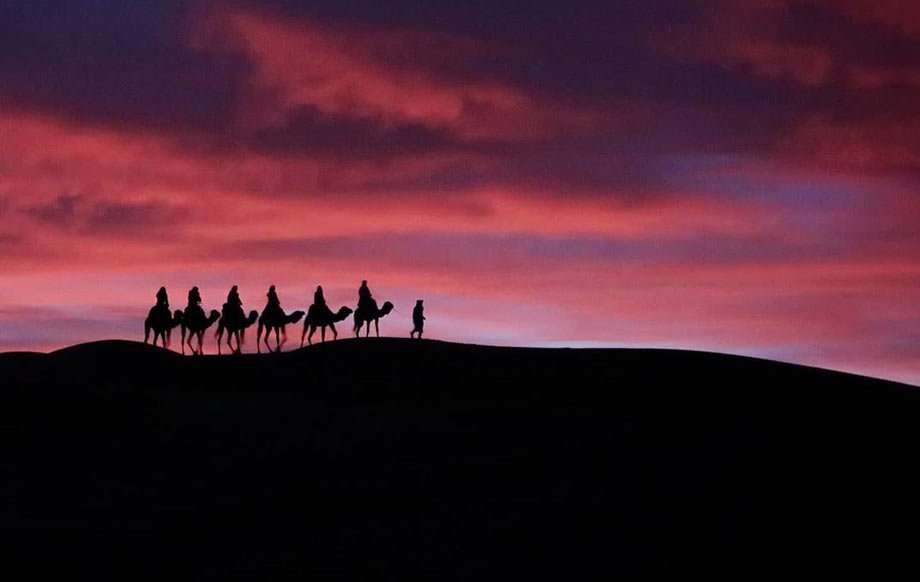 "We don't mind since it is a pretty good spot to be. Of course this year we are here for much longer. After five years of temporary residency I will be qualified to apply for permanent residency. I think the process is pretty similar in all of the EU countries."
They note that they expected delays when shipping to Europe, and thus were not particularly surprised when that happened. After two years on the continent, though, they seem happy as they plan to stay longer.
The LeFroys seem similarly content with how it all went down.
"Seeing what people have done now," Jessica chimes back in, "I think we could have extended our stay overseas further than our six month temporary import permit by exporting the van outside of the EU and re-importing back in. I'd heard that it was possible to reset the six month import every time you left the EU, but that it wasn't a guarantee."
Official sources say that you can stay, in the Schengen Area at least, for 90 days in every 180 day period without a visa which apparently translates to 180 days per 360 day period, even if they're back to back.
Update: "So," Dan wrote in to clarify this "you cannot do two back to back 90 days to make a 180 stay. It's a 'rolling 180' period and you can only be in Schengen for 90 days out of the previous 180 days. Doesn't matter if they are continuous.
"Also don't get the Schengen 90 days confused with the car import limit. They are totally separate and unrelated issues. Maybe you saw this video where I explain the car one a bit"
"I was pretty nervous about having our vehicle seized over there," she admits, "and we were given a bit of a shake down by police in almost every country where they asked to see our import documents…so it's easy for me to say now, in hindsight, that I would have pushed things a bit to see how long we could have stayed, but in the moment when you have people looking at your documents to see how much longer the vehicle is allowed in the EU, it feels like you have to play by the rules."
"We were not ready to leave," she continues, "I feel like shipping the van over to Europe was much more stressful for me because I had so much research and paperwork to organize. When the shipping company says they require a detailed list of everything in your van they are not kidding." She says that last bit slowly to emphasize the importance. 
"The way home Mike Plompen handled everything for us," the relief still in her breath, "it was a case of handing him the keys and picking it up in Halifax. I'd heard horror stories about things going missing from vehicles when you ship roro but we were lucky and nothing was taken from the van except our leather keychain. I'm sure things have changed even since we shipped over in 2015, but overall there wasn't anything about the experience that would dissuade us from doing it again.
So the take away? It's going to cost you about $2500 to get your vehicle from North America to Europe. It'll involve a good deal of research, time and paper work as well. Delays will happen. And you won't regret a moment of it.