The Roaming
Nomads From Germany to the US
& Back and Forth Again...
In 2014, a family of three left their native Germany bound for the United States.
Willi and Julia, along with their then but-a-toddler of a daughter, Emmi, planned to move to the US and find a place to call home.
"We figured we'll just travel around a bit to find a place that we liked to settle down," Julia recalls, sitting in her van about 45 minutes outside of Steamboat Springs, Colorado, boondocking six miles down a dirt road. "Turns out we liked the road and that's where we stayed."
During their time on the road, their family grew. Their son Samson would arrive a couple years into the wandering, followed by Cody, their Border Collie-Labrador mix, to complete the gang.
For the first five or so years, they experimented with different modes of transportation, from about as big as you can go to a motorcycle.
"Let's say we've learned a thing or two," Julia admits, with a tinge of humble humor thrown in. "Or three."
Their first home was a Class A.
"Obviously, we were sure we needed all the space of a 36′ Bounder when we started.
"Obviously that was very wrong."
That RV gave them some mechanical issues, also known as the roadworthiness test that all travelers who opt to purchase used are force–apparently by the laws of nature–to endure.
"We don't know shit about cars and buying a basically-historic vehicle wasn't the smartest move. We've learned a thing or two about spark plugs and generators during that time, until our rear axle broke in the middle of Yuma downtown. Broke right through the middle thanks to a broken differential that ran dry," she pauses, "Or something like that.
"Anyways, after spending a month in a run down hotel waiting for them to find spare parts we decided to downsize and, most importantly, have two different vehicles."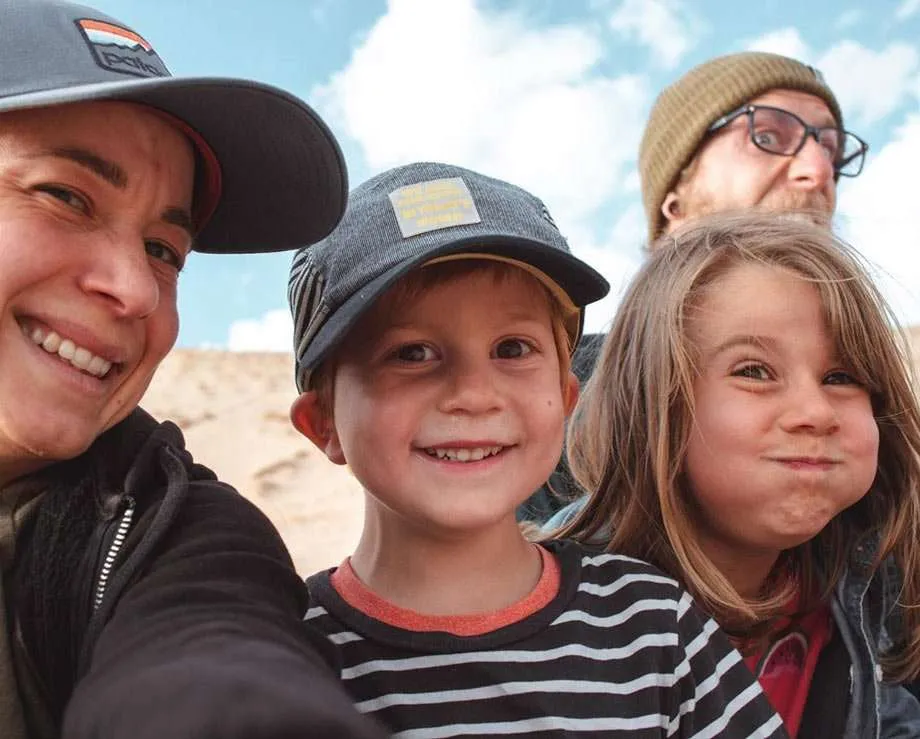 They bought an old trailer, cheap, from a consignment yard in Yuma, and a Ford Excursion to pull it on down the road.
"Two months later that Excursion bit the bullet, so we had to buy another one. That trailer was just an intermediate thing until we got on our feet, and once we saved up enough money we bought the pretty shiny trailer to build it out based on our needs."
While breakdowns and shuffling homes-on-the-road around are not the ideal situation, it does provide traveling families with the ability to think about their needs–versus those of RV designers who often never spend a night camping in their own creations–and craft a rig suited specifically to them.
"The kids got a room for themselves with desks and bunk beds and generally being spoiled. That trailer served us well, but after two years we wanted to travel a bit lighter."
Enter the next stage of their travels, a return to Europe, where they'd spend three weeks building out a Sprinter van to serve as a place of rest when not out exploring their native continent. They weren't positive that living so small–five, including muddy dog feet and the general goo that comes with two young children–would be for them, but their status as native Europeans seeking US citizenship perhaps made the concept of giving it a whirl in Europe a little easier.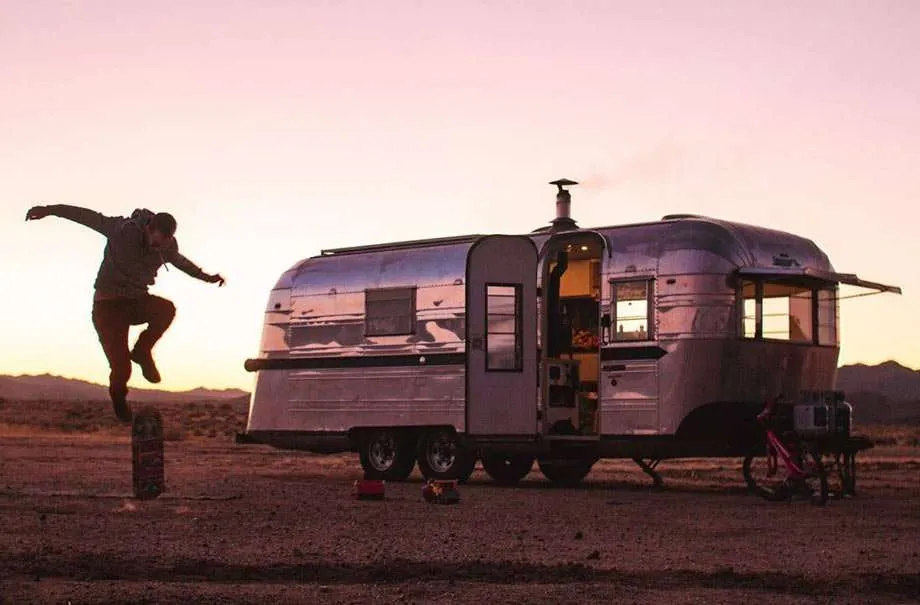 For the average American looking to drive around Europe in an RV, it's not as simple as get there and go. There's this thing called the Schengen Area, which makes it easy for European citizens to move around the country sans passports, but limits the rest of us to traveling those 26 countries–the vast bulk of the EU–to six months at a clip. That said, their Green Card status in the United States put a reverse restriction on them.
Editors: Note: For those interested, Julia, Willi and Emmi are German citizens with permanent resident status in the US, while Sam was born with dual-citizenship. Canines are not so restricted by the silly territorial divides we humans have imagined up.
"We stayed for five months and 29 days," Julia explains, "While we get to stay in Europe for as long as we want, US immigration isn't as forgiving. For Green Card holders, six months is the allowed time to stay out of the country in a year without questions asked, in most cases. You may stay 364 days without losing your visa, but anything longer than six months and they might give you a hard time if you apply for citizenship, plus they most probably will pull you out in customs and ask a lot of questions. Anything longer than a year without prior written permission and you'll loose your green card.
"So we basically have the same restrictions, just the other way around."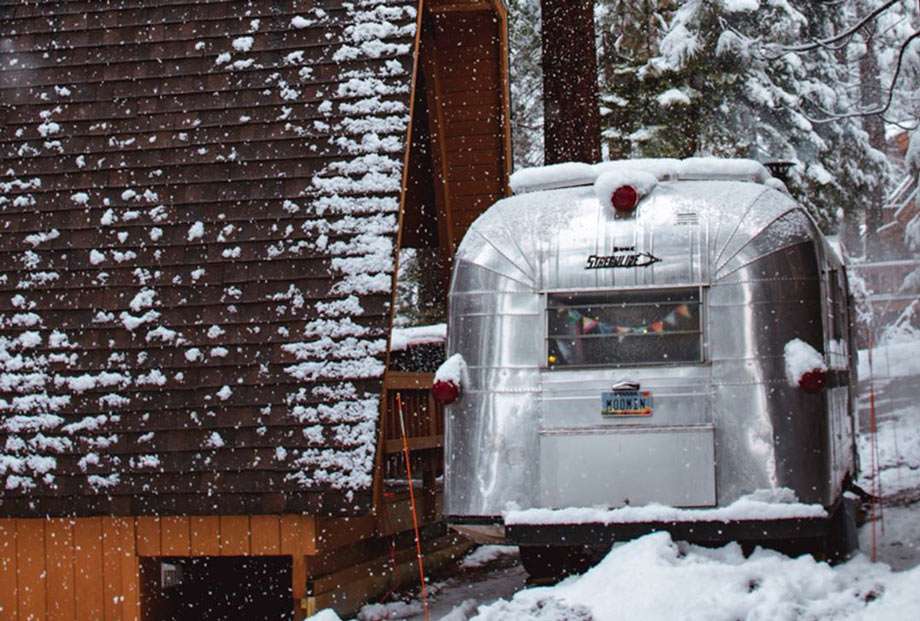 Still, those of us dreaming of drifting aimlessly blissful around Europe someday may find ourselves a bit jealous of their ability to navigate waters like purchasing and insuring a vehicle more easily over there. For Julia and family, the trip served a dual purpose.
"The van in Europe acted as a test if that type of travel is something we would enjoy," she notes, "Turns out, we do."
For those of us who already have a vehicle, or can't easily purchase, register and insure one abroad, shipping a van to Europe is the mostly likely course of action. Not for the Roaming Nomads, as they've christened themselves around the web.
"Buying a van in Europe was way cheaper for us than shipping," Julia clarifies, "The vans are pretty cheap and we didn't have to deal with a cargo ship being delayed or something like that. We're European citizens, which is why we could simply declare residency and register the van and be done with it. For non-residents it's a little bit more difficult or almost impossible. We could stay with my in laws during the three weeks of building. We actually ended up upsizing into the van from that but that kept us motivated to work on it fast. Plus we didn't want to waste our time with an Instagram-pretty build, we'd rather explore."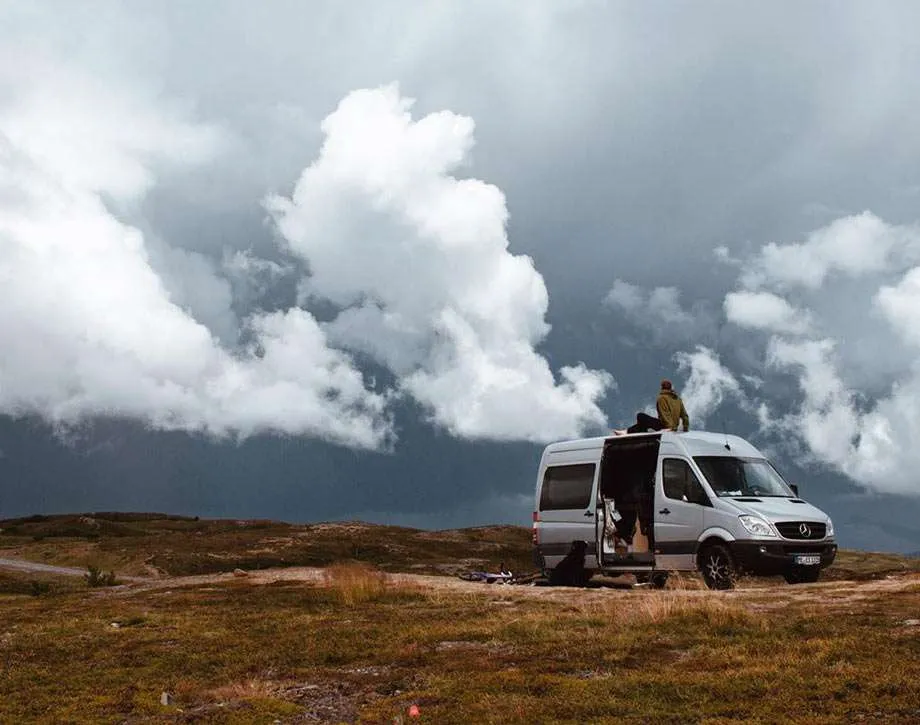 The photos from their time in Europe have no issue showing just how gorgeous that time in their lives was, though.
That build would include cutting a hole in the roof for a skylight, which would double as a human periscope when one of them decided to pop up through, adding 100 watts of solar, the niceties required for sleeping and eating, and spending the next several months largely traveling the northern regions of the continent, living beneath the midnight sun of summertime in Scandinavia.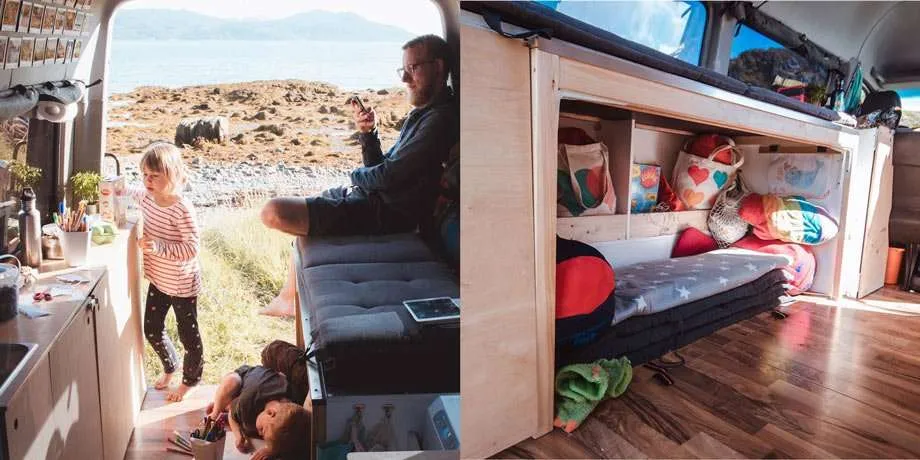 Before heading to Europe, though, they parked their previous trailer in Reno with plans to pretty it up a bit and then sell it when they returned to the US. Their experience building that RV out would inform how they approached building out a van in less than a month once they landed on the other side of the Atlantic.
"First of all," she clarifies, "we're always up for stupid shit ideas. And we've never had the luxury of building something in a shop with power tools and such. We just take what we have and make the best of it. The shiny trailer was entirely built on public lands," without littering or disturbing nature, she makes clear.
"So building the van was probably one of our less crazy things to do. It was a very simplistic build: bed for the kids, pullout bed for us. Cooler-type fridge, sink, toilet and some solar on the roof. It had everything we needed to make the six months comfortable enough." The goal was not perfection, but something to tote them reliably around Europe.
"It was great to get an idea of what works for us and what doesn't, though, and we already knew a lot of things that worked for us. For example, that the kids need their own space to be happy and that we need good food to function.
"We realized we want a poop-room in our US van, and we wanted to shorten the three-seater bench for the kids to get more space, but we loved that we had water jugs you could remove and skylights and we tried to keep the systems for the new van build simple."
The equivalent of $7000 US later, they had a home on the road which would work to fulfill their plans to travel all across the continent.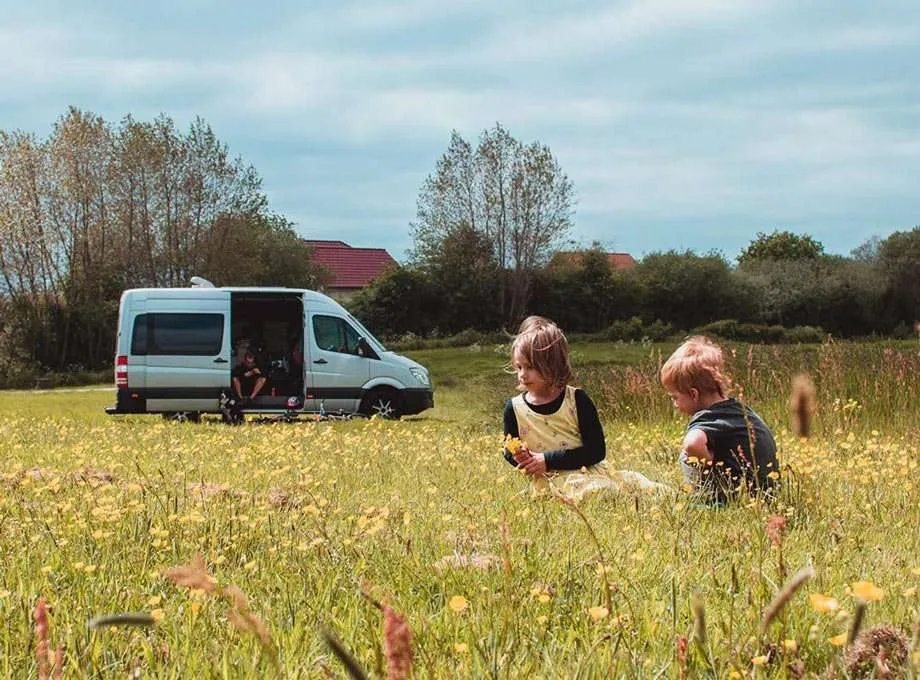 "We planned on visiting Scandinavia, Great Britain and maybe Austria?" she recalls an open-ended idea that they'd tour the breadth of Europe. "We ended up spending 90% of our time in Norway, and then some in Sweden, just because it was so pretty and breathtaking and we didn't want to leave. One of the highlights was seeing reindeer roaming around, and both the midnight sun and Aurora, " they lingered for as long as possible in the north to catch that work of natural fantasy, "Hiking to the northernmost point in Europe with our friends because we were all too cheap to pay the car entrance fee was another highlight.
"Oh, and hiking on a glacier. And seeing musk ox. I think you get the point of why we didn't want to leave…"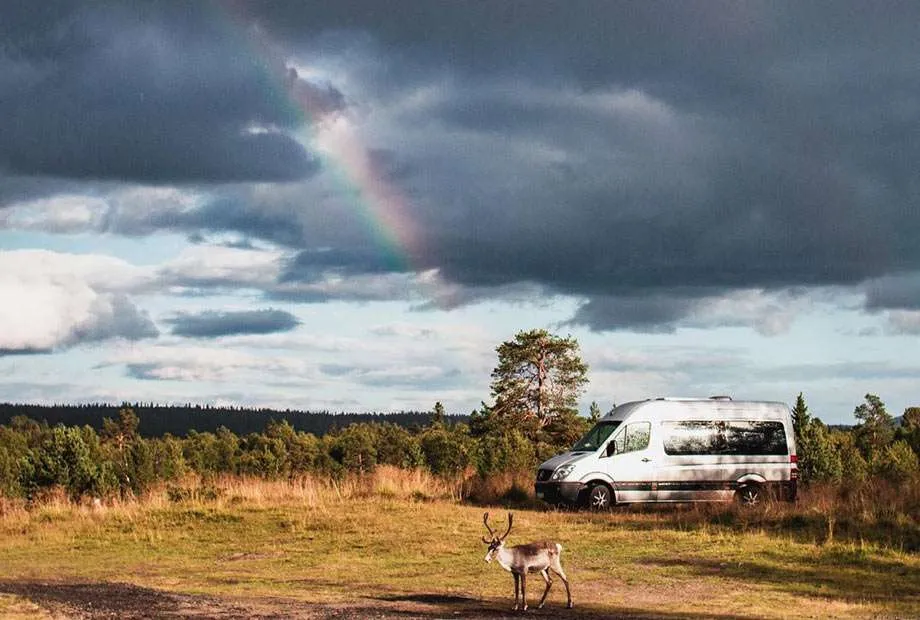 She thinks on it all for a moment, now back in their boondocking spot in Colorado, and then realizes, "I guess we have to go back, and maybe we'll try the shipping way for change."
So a family from Germany moves to the US, travels around for a few years, and then heads home to travel the chunk of earth from which they were born. But with an extra little and dog in tow.
"Since I vetoed the boat idea," Julia reveals what bringing their dog along entailed, "we had to take the plane to Europe.
"Cody didn't necessarily like it, but took it like a champ. He still doesn't really like tunnels, though. It was stressful to get all his health certificates ready–probably would have been fine if someone took care of that earlier than the weekend before leaving–only to have them wave us through at the airport. We needed some additional health stuff and shots before entering Norway, but since we actually prepared for that border crossing this time around it was a breeze. Again, they just waved us through. I guess our German was showing when preparing all the documents."
"Cody is the absolute best travel dog," she continues, again now back in the US, "He's a fierce and dangerous protector of our little family…nah just kidding, he's the cuddliest dog you'll ever meet. He will roll on your feet and then body check your legs until you pet him. He thinks of himself as the perfect sized lap dog and he will climb into your lap if you let him.
"He also takes ten hour travel days without a peep of complaining and we just recently learned that he will ferociously chase black bears away from the kids.
"And the kids are…well…kids. Honestly, we've lived 18 months of our life as parents in an apartment, that was it. We don't know parenting without traveling, it's just what we do. I'm sure parenting in the suburbs or an apartment or a tent has its own set of issues and problems and things to navigate. And a lot of the same tantrums and nose wiping and teaching and bickering."
Just as their lack of desire to get Instafamous with some unnecessarily prettied-up van gave them half a year exploring Europe with their family, and years and years of doing so in the United States, so is the refreshing nature of their willingness to admit that life on the road has not always been perfect, or easy.
At one point, they considered stopping altogether and settling down in North Idaho.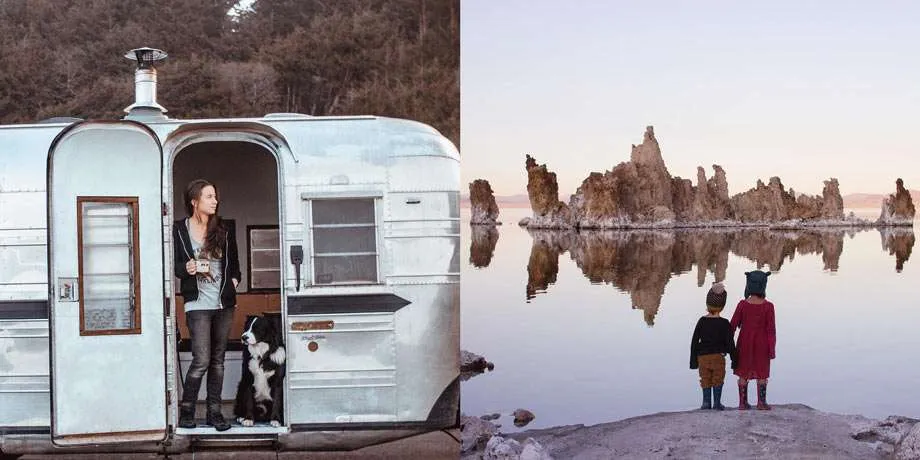 "The main motivation for pausing our travels was Emmi," Julia explains, the love of a mother who spends her every day with her children ringing through, "She is the most social person you'll ever meet, she'll talk your ear off and she just needs other people. When we decided to settle in North Idaho, she was just shy of three and Sam wasn't that much of a playmate yet. That winter was…interesting and rough and once spring came around the owners of the property decided to sell. So we moved on and once we were back on the road we realized that that's the happiest we've been and that Emmi was content with telling Sam what to do and that the road is home."
They've since learned to seek out other traveling families to give the kids alternative playmates now and again.
"We found a nice balance that works for the extroverted member of our family," referring to Emmi, "and…the rest. We usually throw some summer courses in there for good measure, too."
Figuring out what works for them, and adjusting as necessary, seems to be the recurring theme with the family, as Julia explains their initial move to the US.
"So when we sold all our stuff and Willi was still working full-time and I had an 18 month old at home while writing my Master's thesis, and we boarded that plane to the States, I was also 4 months pregnant, because that's just about the level of crazy we do.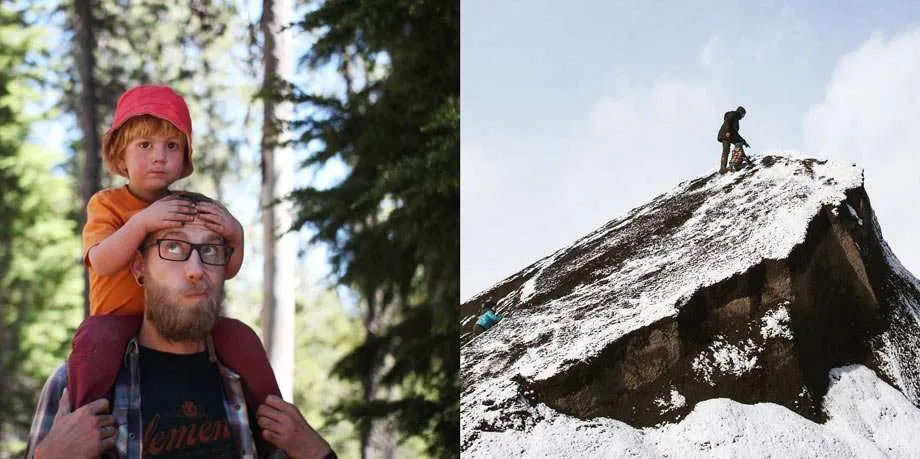 "We traveled north up to Maine for a bit and then down to Florida, where we stayed until Sam was born because we had an awesome midwife there. Our initial birth plan looked something like 'I'll call you when contractions start, we'll probably be either overnighting at the beach parking lot or Walmart or Lowe's if we needed good internet. You'll find us.'
"She," the midwife, "told us that's bullshit and let us park our huge class A in their yard for a week until Sam was born. And yes, he was homebirthed in that class A. It's a fun story."
Fast forward to January of 2020, before the world became one big hospital waiting room. They returned from Europe to that shiny trailer in Reno.
"We still have the shiny trailer, but we plan on selling it. We finished the van," she's speaking of van number two now, their current home, "in our friends driveway in June and we had to decide between sticking around in Reno for a bit longer to make it pretty, because of kids and dog, and then wait for a buyer, or to hit the road, escape the heat and deal with it later. Well, guess what…"
Traveling won out, the road fell back beneath their feet, and they've been coasting along through this year like the rest of us, unsure of what's reality or the moments before we all finally wake up, and doing it together.
"The new van was mostly built on a dry lake bed, like you do, and the rest in our friends' driveway. One spot in the wall over the stove still has a mosquito polyed in. That guy is going places."
The family still speaks German when at home together, and Julia occasionally admits to frustrations with the lack of rules, rhyme or reason to the English language. It hasn't seemed to affect her sense of humor, though.
As to living in their latest rig, the cost of which she explains was, "crazy stupid expensive but it's the first car with a warranty I've ever owned. Ask me about cutting the holes into the crazy stupid expensive new van with battery powered Ryobi tools in the middle of the desert if you want to see my eye twitch," she's emphatic:
"We all love it. The kids have their own desks and beds and private space and we don't need to wait with making the bed until the kids are done with dinner and we are much more flexible on where we're going and when and for how long we're driving."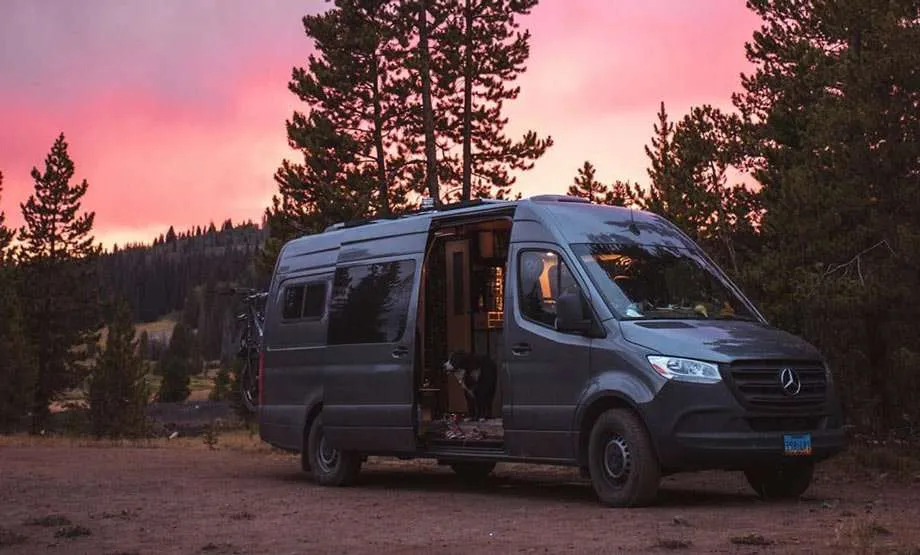 This spring was spent hiding away in the desert outside of Vegas, trying to figure out what the next logical steps are for a family drenched in a life of moving around, in a world where you're told not to even go outside.
"We were there by chance when all the craziness started and it was the perfect spot to stay for a bit. No one around for miles, but still close enough to town for groceries and water, plus medical care in case we needed it. Since it was close enough to a metropolis, I felt good enough about not burdening a smaller community in case we got sick, and we were on BLM land which luckily didn't get closed down."
Then summer's heat kicked in, a sandstorm or two coated their every waking moment, and it was time to once again move on.
"We moved to our friends' driveway up in Tahoe. They offered to let us finish our van build there and we didn't need to worry about moving around and closed campgrounds. We left their place by July and have been traveling since. Our only social interactions have been getting gas and groceries. We've skipped most Visitor Centers," many of which are still closed even as Autumn settles in, "and went on hikes early in the morning or skipped the busy ones altogether. We've been traveling with another family for a month now, all of us keeping our social interaction outside of this unit to a minimum."
Photos of their daybreak hikes on empty trails in places like Yellowstone are sure to put a smile on any face with a soft spot for kids in the forest.
Moving forward, life will not particularly change for the Roaming Nomads, even if the scenery is exchanged every few days.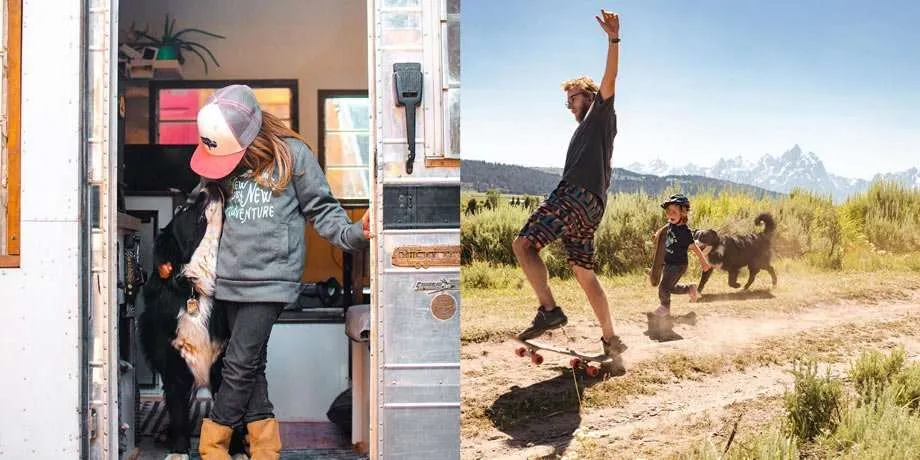 They imagine another trip to Europe, and, she continues, "There's so much still to see. Japan and Hawaii and Mongolia and….so much still to explore.
"For now we'll explore the mountainous side of Colorado, that's a first for us. And then…maybe New Mexico? Utah? Florida? We did have our fair share of the desert for this year, so I'm vetoing anything desert-y for now."
Whatever they decide, no doubt they'll correct course and find what's right for them, as they've been so successfully doing for years now.
"I'm a type A person," she admits, "but I stopped making any plans regarding our trips, because as soon as we have a plan something changes our mind and we do something else."
"Oh, and that motorcycle?" she asks, "Please don't remind Willi he had to sell it. Just…don't mention it."